Aluminized Mini Mesh Specifications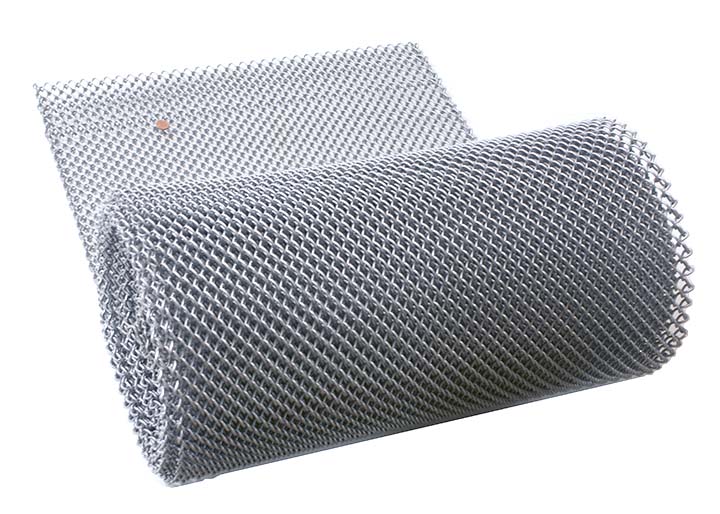 ASTM A491, Federal Specification RR-F191/1F Type II, AASHTO M-181 Type II
Product Name: Aluminum Coated (aluminized) Steel Chain Link Mini Mesh Fence Fabric

Basic Uses: Aluminum coated steel chain link fence fabric is used for industrial, commercial and institutional applications. Aluminum coated fabric is contained in local, state and federal government specifications for use in prison, road, dock, airport, housing, forestry, and military use.

Composition and Material: Aluminum coated steel chain link fence fabric is produced by cold drawing good
commercial grade steel rod into wire of the appropriate diameter. The steel rod from which the wire is drawn is
produced by the open hearth, electric furnace or basic oxygen process. The coating process is produced by passing the cleaned wire through a molten bath of aluminum metal. Aluminum metal pigs or ingots used to produce the coating shall have no more than the following maximum levels of impurities:
Copper – 0.10% maximum Cu
Iron – 0.50% maximum Fe

Standards:
ASTM A491 – Aluminum-Coated Steel Chain Link Fence Fabric
ASTM F567 – Installation of Chain Link Fence
ASTM A817 – Metallic-Coated Wire for Use in Chain Link Fence
Federal Specification RR-F-191K/1F Type II Fencing, Wire and Post Metal (Chain-Link Fence)
AASHTO M-181 Chain Link Fence, Type II

Technical Data
General: The manufacturer, if requested, will supply samples and certification that all materials furnished comply with the appropriate specifications.

Chain Link Fence Fabric: The base metal of the chain link fence fabric is composed of commercial quality, medium carbon aluminum coated wire. The wire is coated with aluminum to produce a smooth and uniform coating. The weight of the aluminum coating, wire sizes with allowable variances, and wire breaking strength, conform to ASTM A 817 for the wire size specified. The wire is aluminum coated before weaving.

Sizes: Aluminized fabric is available in mesh sizes from 3/8" to 2 3/8", and in heights from 24" to 240". Unless
otherwise specified, chain link fence fabric woven with a 2" mesh and 60" or less in height is knuckled at both
selvages. For fabrics 72" and taller, the selvage is knuckled at one edge and twisted at the other. All fabrics woven
into mesh sizes under 2" are knuckled at both selvages.

Installation: Install fence in accordance with ASTM Practice 567. Handle all aluminum coated materials with care. If
aluminum coating is damaged or scratched during installation, contractor must replace or repair the material at his or her own expense.

Maintenance: Periodic inspection is recommended but no routine maintenance is required.
Aluminum Coated Wire Characteristics Table
The weight of the aluminum coating, wire sizes, and wire breaking strength comply with ASTM A817 (Standard Specification for Metallic-Coated Steel Wire for Chain-Link Fence Fabric and Marcelled Tention Wire) for the wire size specified.
Nominal Coated
Wire Diameter

Allowable
Variance

Minimum Aluminum
Coating Weight

Minimum
Breaking Strength

Class 1

Gage

Inch

mm

Inch

mm

Oz/ft²

g/m²

lbf

Newtons

6

0.192

4.88

±0.005

±0.13

0.40

122

2170

9650

9

0.148

3.76

±0.005

±0.13

0.40

122

1290

5740

10

0.135

3.43

±0.005

±0.13

0.40

122

1290

5740

11

0.120

3.05

±0.005

±0.13

0.35

107

850

3780
Aluminum Coated Chain Link Fabric Characteristics Table
Chain link fabric will be furnished in the standard heights shown in the following table. Custom order fabric is available in heights to and including 20'.

Recommended Use

Mesh Sizes

Gage Size

Height of
Fence Fabric

Industrial/
Commercial

2"

6

36" - 144"

9

10

11

Industrial/
Security

1"

6

36" - 144"

9

Security

1"

9

36" - 144"

11

3/4"

9

11

5/8"

9

11

1/2"

9

11

3/8"

10

11

Tennis Courts

1 3/4"

9

36" - 144"

11