Aluminized 1 1/4" x 1 1/4" Mini Mesh Chain Link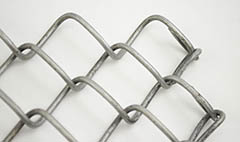 Do you have an area in need of protection? The unique size of our 1 1/4" x 1 1/4" aluminum coated chain link fence mini mesh adds extra security to your area, as intruders and animals have a difficult time climbing smaller chain links.
We have engineered our mini mesh to be top-of-the-line, and it shows in the manufacturing. Cold temperatures draw commercial grade steel into wire of the appropriate diameter. This wire is cleaned and passed through a bath of molten aluminum metal, protecting it against corrosive elements and other pollutants. It is then woven into high-grade chain link fence fabric, cut to the size you need, and shipped to you.
Aluminum coated mesh fabric is contained by local, state and federal government specifications and has been utilized in airport, prison, forestry and military applications. We are excited to offer a high quality product at the right price!
Feet (in Rolls): 25, 50
Gauges: 9, 10, 10.5, 11, 11.5, 12.5, 14
Heights: 18", 24", 36", 42", 48", 60", 72", 84", 96", 108", 120", 132", 144", 156", 168", 180", 192", 204", 216", 228", 240"
Colors: Mini mesh is available in a variety of colors. If you need a color tailored to your needs, we will find it for you! Please contact us for availability.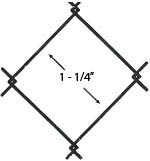 Find Your 1 1/4" x 1 1/4" Mini Mesh Size:
| | | | | | |
| --- | --- | --- | --- | --- | --- |
| Fabric Height | Roll Size | Mesh Size | Selvage | Gauge | Weight / Per Foot (LBS) |
| 18" | 25' or 50' | 1 1/4" x 1 1/4" | Knuckle Knuckle | 14 GA | 0.57 |
| 24" | 25' or 50' | 1 1/4" x 1 1/4" | Knuckle Knuckle | 14 GA | 0.76 |
| 36" | 25' or 50' | 1 1/4" x 1 1/4" | Knuckle Knuckle | 14 GA | 1.14 |
| 42" | 25' or 50' | 1 1/4" x 1 1/4" | Knuckle Knuckle | 14 GA | 1.33 |
| 48" | 25' or 50' | 1 1/4" x 1 1/4" | Knuckle Knuckle | 14 GA | 1.52 |
| 60" | 25' or 50' | 1 1/4" x 1 1/4" | Knuckle Knuckle | 14 GA | 1.9 |
| 72" | 25' or 50' | 1 1/4" x 1 1/4" | Knuckle Knuckle | 14 GA | 2.28 |
| 84" | 25' or 50' | 1 1/4" x 1 1/4" | Knuckle Knuckle | 14 GA | 2.66 |
| 96" | 25' or 50' | 1 1/4" x 1 1/4" | Knuckle Knuckle | 14 GA | 3.04 |
| 108" | 25' or 50' | 1 1/4" x 1 1/4" | Knuckle Knuckle | 14 GA | 3.42 |
| 120" | 25' or 50' | 1 1/4" x 1 1/4" | Knuckle Knuckle | 14 GA | 3.8 |
| 132" | 25' or 50' | 1 1/4" x 1 1/4" | Knuckle Knuckle | 14 GA | 4.18 |
| 144" | 25' or 50' | 1 1/4" x 1 1/4" | Knuckle Knuckle | 14 GA | 4.56 |
| 156" | 25' or 50' | 1 1/4" x 1 1/4" | Knuckle Knuckle | 14 GA | 4.94 |
| 168" | 25' or 50' | 1 1/4" x 1 1/4" | Knuckle Knuckle | 14 GA | 5.32 |
| 180" | 25' or 50' | 1 1/4" x 1 1/4" | Knuckle Knuckle | 14 GA | 5.7 |
| 192" | 25' or 50' | 1 1/4" x 1 1/4" | Knuckle Knuckle | 14 GA | 6.08 |
| 204" | 25' or 50' | 1 1/4" x 1 1/4" | Knuckle Knuckle | 14 GA | 6.46 |
| 216" | 25' or 50' | 1 1/4" x 1 1/4" | Knuckle Knuckle | 14 GA | 6.84 |
| 228" | 25' or 50' | 1 1/4" x 1 1/4" | Knuckle Knuckle | 14 GA | 7.22 |
| 240" | 25' or 50' | 1 1/4" x 1 1/4" | Knuckle Knuckle | 14 GA | 7.6 |
| | | | | | |
| --- | --- | --- | --- | --- | --- |
| Fabric Height | Roll Size | Mesh Size | Selvage | Gauge | Weight / Per Foot (LBS) |
| 18" | 25' or 50' | 1 1/4" x 1 1/4" | Knuckle Knuckle | 12.5 GA | 0.813 |
| 24" | 25' or 50' | 1 1/4" x 1 1/4" | Knuckle Knuckle | 12.5 GA | 1.084 |
| 36" | 25' or 50' | 1 1/4" x 1 1/4" | Knuckle Knuckle | 12.5 GA | 1.626 |
| 42" | 25' or 50' | 1 1/4" x 1 1/4" | Knuckle Knuckle | 12.5 GA | 1.897 |
| 48" | 25' or 50' | 1 1/4" x 1 1/4" | Knuckle Knuckle | 12.5 GA | 2.168 |
| 60" | 25' or 50' | 1 1/4" x 1 1/4" | Knuckle Knuckle | 12.5 GA | 2.71 |
| 72" | 25' or 50' | 1 1/4" x 1 1/4" | Knuckle Knuckle | 12.5 GA | 3.252 |
| 84" | 25' or 50' | 1 1/4" x 1 1/4" | Knuckle Knuckle | 12.5 GA | 3.794 |
| 96" | 25' or 50' | 1 1/4" x 1 1/4" | Knuckle Knuckle | 12.5 GA | 4.336 |
| 108" | 25' or 50' | 1 1/4" x 1 1/4" | Knuckle Knuckle | 12.5 GA | 4.878 |
| 120" | 25' or 50' | 1 1/4" x 1 1/4" | Knuckle Knuckle | 12.5 GA | 5.42 |
| 132" | 25' or 50' | 1 1/4" x 1 1/4" | Knuckle Knuckle | 12.5 GA | 5.962 |
| 144" | 25' or 50' | 1 1/4" x 1 1/4" | Knuckle Knuckle | 12.5 GA | 6.504 |
| 156" | 25' or 50' | 1 1/4" x 1 1/4" | Knuckle Knuckle | 12.5 GA | 7.046 |
| 168" | 25' or 50' | 1 1/4" x 1 1/4" | Knuckle Knuckle | 12.5 GA | 7.588 |
| 180" | 25' or 50' | 1 1/4" x 1 1/4" | Knuckle Knuckle | 12.5 GA | 8.13 |
| 192" | 25' or 50' | 1 1/4" x 1 1/4" | Knuckle Knuckle | 12.5 GA | 8.672 |
| 204" | 25' or 50' | 1 1/4" x 1 1/4" | Knuckle Knuckle | 12.5 GA | 9.214 |
| 216" | 25' or 50' | 1 1/4" x 1 1/4" | Knuckle Knuckle | 12.5 GA | 9.756 |
| 228" | 25' or 50' | 1 1/4" x 1 1/4" | Knuckle Knuckle | 12.5 GA | 10.298 |
| 240" | 25' or 50' | 1 1/4" x 1 1/4" | Knuckle Knuckle | 12.5 GA | 10.84 |
| | | | | | |
| --- | --- | --- | --- | --- | --- |
| Fabric Height | Roll Size | Mesh Size | Selvage | Gauge | Weight / Per Foot (LBS) |
| 18" | 25' or 50' | 1 1/4" x 1 1/4" | Knuckle Knuckle | 11.5" GA | 1.02 |
| 24" | 25' or 50' | 1 1/4" x 1 1/4" | Knuckle Knuckle | 11.5" GA | 1.36 |
| 36" | 25' or 50' | 1 1/4" x 1 1/4" | Knuckle Knuckle | 11.5" GA | 2.04 |
| 42" | 25' or 50' | 1 1/4" x 1 1/4" | Knuckle Knuckle | 11.5" GA | 2.38 |
| 48" | 25' or 50' | 1 1/4" x 1 1/4" | Knuckle Knuckle | 11.5" GA | 2.72 |
| 60" | 25' or 50' | 1 1/4" x 1 1/4" | Knuckle Knuckle | 11.5" GA | 3.4 |
| 72" | 25' or 50' | 1 1/4" x 1 1/4" | Knuckle Knuckle | 11.5" GA | 4.08 |
| 84" | 25' or 50' | 1 1/4" x 1 1/4" | Knuckle Knuckle | 11.5" GA | 4.76 |
| 96" | 25' or 50' | 1 1/4" x 1 1/4" | Knuckle Knuckle | 11.5" GA | 5.44 |
| 108" | 25' or 50' | 1 1/4" x 1 1/4" | Knuckle Knuckle | 11.5" GA | 6.12 |
| 120" | 25' or 50' | 1 1/4" x 1 1/4" | Knuckle Knuckle | 11.5" GA | 6.8 |
| 132" | 25' or 50' | 1 1/4" x 1 1/4" | Knuckle Knuckle | 11.5" GA | 7.48 |
| 144" | 25' or 50' | 1 1/4" x 1 1/4" | Knuckle Knuckle | 11.5" GA | 8.16 |
| 156" | 25' or 50' | 1 1/4" x 1 1/4" | Knuckle Knuckle | 11.5" GA | 8.84 |
| 168" | 25' or 50' | 1 1/4" x 1 1/4" | Knuckle Knuckle | 11.5" GA | 9.52 |
| 180" | 25' or 50' | 1 1/4" x 1 1/4" | Knuckle Knuckle | 11.5" GA | 10.2 |
| 192" | 25' or 50' | 1 1/4" x 1 1/4" | Knuckle Knuckle | 11.5" GA | 10.88 |
| 204" | 25' or 50' | 1 1/4" x 1 1/4" | Knuckle Knuckle | 11.5" GA | 11.56 |
| 216" | 25' or 50' | 1 1/4" x 1 1/4" | Knuckle Knuckle | 11.5" GA | 12.24 |
| 228" | 25' or 50' | 1 1/4" x 1 1/4" | Knuckle Knuckle | 11.5" GA | 12.92 |
| 240' | 25' or 50' | 1 1/4" x 1 1/4" | Knuckle Knuckle | 11.5" GA | 13.6 |
| | | | | | |
| --- | --- | --- | --- | --- | --- |
| Fabric Height | Roll Size | Mesh Size | Selvage | Gauge | Weight / Per Foot (LBS) |
| 18" | 25' or 50' | 1 1/4" x 1 1/4" | Knuckle Knuckle | 11 GA | 1.17 |
| 24" | 25' or 50' | 1 1/4" x 1 1/4" | Knuckle Knuckle | 11 GA | 1.56 |
| 36" | 25' or 50' | 1 1/4" x 1 1/4" | Knuckle Knuckle | 11 GA | 2.34 |
| 42" | 25' or 50' | 1 1/4" x 1 1/4" | Knuckle Knuckle | 11 GA | 2.73 |
| 48" | 25' or 50' | 1 1/4" x 1 1/4" | Knuckle Knuckle | 11 GA | 3.12 |
| 60" | 25' or 50' | 1 1/4" x 1 1/4" | Knuckle Knuckle | 11 GA | 3.9 |
| 72" | 25' or 50' | 1 1/4" x 1 1/4" | Knuckle Knuckle | 11 GA | 4.68 |
| 84" | 25' or 50' | 1 1/4" x 1 1/4" | Knuckle Knuckle | 11 GA | 5.46 |
| 96" | 25' or 50' | 1 1/4" x 1 1/4" | Knuckle Knuckle | 11 GA | 6.24 |
| 108" | 25' or 50' | 1 1/4" x 1 1/4" | Knuckle Knuckle | 11 GA | 7.02 |
| 120" | 25' or 50' | 1 1/4" x 1 1/4" | Knuckle Knuckle | 11 GA | 7.8 |
| 132" | 25' or 50' | 1 1/4" x 1 1/4" | Knuckle Knuckle | 11 GA | 8.58 |
| 144" | 25' or 50' | 1 1/4" x 1 1/4" | Knuckle Knuckle | 11 GA | 9.36 |
| 156" | 25' or 50' | 1 1/4" x 1 1/4" | Knuckle Knuckle | 11 GA | 10.14 |
| 168" | 25' or 50' | 1 1/4" x 1 1/4" | Knuckle Knuckle | 11 GA | 10.92 |
| 180" | 25' or 50' | 1 1/4" x 1 1/4" | Knuckle Knuckle | 11 GA | 11.7 |
| 192" | 25' or 50' | 1 1/4" x 1 1/4" | Knuckle Knuckle | 11 GA | 12.48 |
| 204" | 25' or 50' | 1 1/4" x 1 1/4" | Knuckle Knuckle | 11 GA | 13.26 |
| 216" | 25' or 50' | 1 1/4" x 1 1/4" | Knuckle Knuckle | 11 GA | 14.04 |
| 228" | 25' or 50' | 1 1/4" x 1 1/4" | Knuckle Knuckle | 11 GA | 14.82 |
| 240" | 25' or 50' | 1 1/4" x 1 1/4" | Knuckle Knuckle | 11 GA | 15.6 |
| | | | | | |
| --- | --- | --- | --- | --- | --- |
| Fabric Height | Roll Size | Mesh Size | Selvage | Gauge | Weight / Per Foot (LBS) |
| 18" | 25' or 50' | 1 1/4" x 1 1/4" | Knuckle Knuckle | 10.5 GA | 1.2855 |
| 24" | 25' or 50' | 1 1/4" x 1 1/4" | Knuckle Knuckle | 10.5 GA | 1.714 |
| 36" | 25' or 50' | 1 1/4" x 1 1/4" | Knuckle Knuckle | 10.5 GA | 2.571 |
| 42" | 25' or 50' | 1 1/4" x 1 1/4" | Knuckle Knuckle | 10.5 GA | 2.9995 |
| 48" | 25' or 50' | 1 1/4" x 1 1/4" | Knuckle Knuckle | 10.5 GA | 3.428 |
| 60" | 25' or 50' | 1 1/4" x 1 1/4" | Knuckle Knuckle | 10.5 GA | 4.285 |
| 72" | 25' or 50' | 1 1/4" x 1 1/4" | Knuckle Knuckle | 10.5 GA | 5.142 |
| 84" | 25' or 50' | 1 1/4" x 1 1/4" | Knuckle Knuckle | 10.5 GA | 5.999 |
| 96" | 25' or 50' | 1 1/4" x 1 1/4" | Knuckle Knuckle | 10.5 GA | 6.856 |
| 108" | 25' or 50' | 1 1/4" x 1 1/4" | Knuckle Knuckle | 10.5 GA | 7.713 |
| 120" | 25' or 50' | 1 1/4" x 1 1/4" | Knuckle Knuckle | 10.5 GA | 8.57 |
| 132" | 25' or 50' | 1 1/4" x 1 1/4" | Knuckle Knuckle | 10.5 GA | 9.427 |
| 144" | 25' or 50' | 1 1/4" x 1 1/4" | Knuckle Knuckle | 10.5 GA | 10.284 |
| 156" | 25' or 50' | 1 1/4" x 1 1/4" | Knuckle Knuckle | 10.5 GA | 11.141 |
| 168" | 25' or 50' | 1 1/4" x 1 1/4" | Knuckle Knuckle | 10.5 GA | 11.998 |
| 180" | 25' or 50' | 1 1/4" x 1 1/4" | Knuckle Knuckle | 10.5 GA | 12.855 |
| 192" | 25' or 50' | 1 1/4" x 1 1/4" | Knuckle Knuckle | 10.5 GA | 13.712 |
| 204" | 25' or 50' | 1 1/4" x 1 1/4" | Knuckle Knuckle | 10.5 GA | 14.569 |
| 216" | 25' or 50' | 1 1/4" x 1 1/4" | Knuckle Knuckle | 10.5 GA | 15.426 |
| 228" | 25' or 50' | 1 1/4" x 1 1/4" | Knuckle Knuckle | 10.5 GA | 16.283 |
| 240" | 25' or 50' | 1 1/4" x 1 1/4" | Knuckle Knuckle | 10.5 GA | 17.14 |
| | | | | | |
| --- | --- | --- | --- | --- | --- |
| Fabric Height | Roll Size | Mesh Size | Selvage | Gauge | Weight / Per Foot (LBS) |
| 18" | 25' or 50' | 1 1/4" x 1 1/4" | Knuckle Knuckle | 10 GA | 1.4745 |
| 24" | 25' or 50' | 1 1/4" x 1 1/4" | Knuckle Knuckle | 10 GA | 1.966 |
| 36" | 25' or 50' | 1 1/4" x 1 1/4" | Knuckle Knuckle | 10 GA | 2.949 |
| 42" | 25' or 50' | 1 1/4" x 1 1/4" | Knuckle Knuckle | 10 GA | 3.4405 |
| 48" | 25' or 50' | 1 1/4" x 1 1/4" | Knuckle Knuckle | 10 GA | 3.932 |
| 60" | 25' or 50' | 1 1/4" x 1 1/4" | Knuckle Knuckle | 10 GA | 4.915 |
| 72" | 25' or 50' | 1 1/4" x 1 1/4" | Knuckle Knuckle | 10 GA | 5.898 |
| 84" | 25' or 50' | 1 1/4" x 1 1/4" | Knuckle Knuckle | 10 GA | 6.881 |
| 96" | 25' or 50' | 1 1/4" x 1 1/4" | Knuckle Knuckle | 10 GA | 7.864 |
| 108" | 25' or 50' | 1 1/4" x 1 1/4" | Knuckle Knuckle | 10 GA | 8.847 |
| 120" | 25' or 50' | 1 1/4" x 1 1/4" | Knuckle Knuckle | 10 GA | 9.83 |
| 132" | 25' or 50' | 1 1/4" x 1 1/4" | Knuckle Knuckle | 10 GA | 10.813 |
| 144" | 25' or 50' | 1 1/4" x 1 1/4" | Knuckle Knuckle | 10 GA | 11.796 |
| 156" | 25' or 50' | 1 1/4" x 1 1/4" | Knuckle Knuckle | 10 GA | 12.779 |
| 168" | 25' or 50' | 1 1/4" x 1 1/4" | Knuckle Knuckle | 10 GA | 13.762 |
| 180" | 25' or 50' | 1 1/4" x 1 1/4" | Knuckle Knuckle | 10 GA | 14.745 |
| 192" | 25' or 50' | 1 1/4" x 1 1/4" | Knuckle Knuckle | 10 GA | 15.728 |
| 204" | 25' or 50' | 1 1/4" x 1 1/4" | Knuckle Knuckle | 10 GA | 16.711 |
| 216" | 25' or 50' | 1 1/4" x 1 1/4" | Knuckle Knuckle | 10 GA | 17.694 |
| 228" | 25' or 50' | 1 1/4" x 1 1/4" | Knuckle Knuckle | 10 GA | 18.677 |
| 240" | 25' or 50' | 1 1/4" x 1 1/4" | Knuckle Knuckle | 10 GA | 19.66 |
| | | | | | |
| --- | --- | --- | --- | --- | --- |
| Fabric Height | Roll Size | Mesh Size | Selvage | Gauge | Weight / Per Foot (LBS) |
| 18" | 25' or 50' | 1 1/4" x 1 1/4" | Knuckle Knuckle | 9 GA | 1.62 |
| 24" | 25' or 50' | 1 1/4" x 1 1/4" | Knuckle Knuckle | 9 GA | 2.16 |
| 36" | 25' or 50' | 1 1/4" x 1 1/4" | Knuckle Knuckle | 9 GA | 3.24 |
| 42" | 25' or 50' | 1 1/4" x 1 1/4" | Knuckle Knuckle | 9 GA | 3.78 |
| 48" | 25' or 50' | 1 1/4" x 1 1/4" | Knuckle Knuckle | 9 GA | 4.32 |
| 60" | 25' or 50' | 1 1/4" x 1 1/4" | Knuckle Knuckle | 9 GA | 5.4 |
| 72" | 25' or 50' | 1 1/4" x 1 1/4" | Knuckle Knuckle | 9 GA | 6.48 |
| 84" | 25' or 50' | 1 1/4" x 1 1/4" | Knuckle Knuckle | 9 GA | 7.56 |
| 96" | 25' or 50' | 1 1/4" x 1 1/4" | Knuckle Knuckle | 9 GA | 8.64 |
| 108" | 25' or 50' | 1 1/4" x 1 1/4" | Knuckle Knuckle | 9 GA | 9.72 |
| 120" | 25' or 50' | 1 1/4" x 1 1/4" | Knuckle Knuckle | 9 GA | 10.8 |
| 132" | 25' or 50' | 1 1/4" x 1 1/4" | Knuckle Knuckle | 9 GA | 11.88 |
| 144" | 25' or 50' | 1 1/4" x 1 1/4" | Knuckle Knuckle | 9 GA | 12.96 |
| 156" | 25' or 50' | 1 1/4" x 1 1/4" | Knuckle Knuckle | 9 GA | 14.04 |
| 168" | 25' or 50' | 1 1/4" x 1 1/4" | Knuckle Knuckle | 9 GA | 15.12 |
| 180" | 25' or 50' | 1 1/4" x 1 1/4" | Knuckle Knuckle | 9 GA | 16.2 |
| 192" | 25' or 50' | 1 1/4" x 1 1/4" | Knuckle Knuckle | 9 GA | 17.28 |
| 204" | 25' or 50' | 1 1/4" x 1 1/4" | Knuckle Knuckle | 9 GA | 18.36 |
| 216" | 25' or 50' | 1 1/4" x 1 1/4" | Knuckle Knuckle | 9 GA | 19.44 |
| 228" | 25' or 50' | 1 1/4" x 1 1/4" | Knuckle Knuckle | 9 GA | 20.52 |
| 240" | 25' or 50' | 1 1/4" x 1 1/4" | Knuckle Knuckle | 9 GA | 21.6 |