Aluminized 1/2" x 1/2" Mini Mesh Chain Link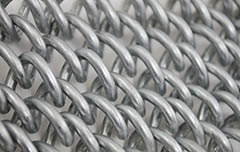 Protecting your valuables from burglars, building a secure animal cage, creating a safe environment for your children - our 1/2" x 1/2" aluminized chain link fence mini mesh does it best! The unique small mesh size is a staple in security, making it almost impossible for shoes to get a grip.
Mini mesh is coated with a layer of aluminum to protect it from corrosive elements and pollution. Our mesh fabric is manufactured by colder temperatures drawing steel rod into wire of the appropriate diameter. The cleaned wire is passed through a molten bath of aluminum metal. This sealed aluminized steel wire is then woven into high-grade chain link fence fabric.
Offered in a range of gauges ( 9, 10, 10.5, 11, 11.5, 12.5, 14 ) and heights, you're sure to find one that suits your fencing needs. Aluminum coated mesh fabric is contained by government specifications and has been utilized in airport, prison, forestry and military applications. We are excited to offer this high quality product at the right price!
Feet (in Rolls): 25, 50
Gauges: 9, 10, 10.5, 11, 11.5, 12.5, 14
Available finishes: Galvanized, Aluminized, and Vinyl Coated (contact us for available colors)
Heights: 18", 24", 36", 42", 48", 60", 72", 84", 96", 108", 120", 132", 144", 156", 168", 180", 192", 204", 216", 228", 240"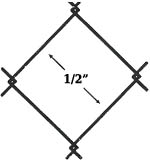 Find Your 1/2" x 1/2" Mini Mesh Size:
| | | | | | |
| --- | --- | --- | --- | --- | --- |
| Fabric Height | Roll Size | Mesh Size | Selvage | Gauge | Weight / Per Foot (LBS) |
| 18" | 25' or 50' | 1/2" x 1/2" | Knuckle Knuckle | 14 GA | 1.2 |
| 24" | 25' or 50' | 1/2" x 1/2" | Knuckle Knuckle | 14 GA | 1.6 |
| 36" | 25' or 50' | 1/2" x 1/2" | Knuckle Knuckle | 14 GA | 2.4 |
| 42" | 25' or 50' | 1/2" x 1/2" | Knuckle Knuckle | 14 GA | 2.8 |
| 48" | 25' or 50' | 1/2" x 1/2" | Knuckle Knuckle | 14 GA | 3.2 |
| 60" | 25' or 50' | 1/2" x 1/2" | Knuckle Knuckle | 14 GA | 4 |
| 72" | 25' or 50' | 1/2" x 1/2" | Knuckle Knuckle | 14 GA | 4.8 |
| 84" | 25' or 50' | 1/2" x 1/2" | Knuckle Knuckle | 14 GA | 5.6 |
| 96" | 25' or 50' | 1/2" x 1/2" | Knuckle Knuckle | 14 GA | 6.4 |
| 108" | 25' or 50' | 1/2" x 1/2" | Knuckle Knuckle | 14 GA | 7.2 |
| 120" | 25' or 50' | 1/2" x 1/2" | Knuckle Knuckle | 14 GA | 8 |
| 132" | 25' or 50' | 1/2" x 1/2" | Knuckle Knuckle | 14 GA | 8.8 |
| 144" | 25' or 50' | 1/2" x 1/2" | Knuckle Knuckle | 14 GA | 9.6 |
| 156" | 25' or 50' | 1/2" x 1/2" | Knuckle Knuckle | 14 GA | 10.4 |
| 168" | 25' or 50' | 1/2" x 1/2" | Knuckle Knuckle | 14 GA | 11.2 |
| 180" | 25' or 50' | 1/2" x 1/2" | Knuckle Knuckle | 14 GA | 12 |
| 192" | 25' or 50' | 1/2" x 1/2" | Knuckle Knuckle | 14 GA | 12.8 |
| 204" | 25' or 50' | 1/2" x 1/2" | Knuckle Knuckle | 14 GA | 13.6 |
| 216" | 25' or 50' | 1/2" x 1/2" | Knuckle Knuckle | 14 GA | 14.4 |
| 228" | 25' or 50' | 1/2" x 1/2" | Knuckle Knuckle | 14 GA | 15.2 |
| 240" | 25' or 50' | 1/2" x 1/2" | Knuckle Knuckle | 14 GA | 16 |
| | | | | | |
| --- | --- | --- | --- | --- | --- |
| Fabric Height | Roll Size | Mesh Size | Selvage | Gauge | Weight / Per Foot (LBS) |
| 18" | 25' or 50' | 1/2" x 1/2" | Knuckle Knuckle | 12.5 GA | 1.83 |
| 24" | 25' or 50' | 1/2" x 1/2" | Knuckle Knuckle | 12.5 GA | 2.44 |
| 36" | 25' or 50' | 1/2" x 1/2" | Knuckle Knuckle | 12.5 GA | 3.66 |
| 42" | 25' or 50' | 1/2" x 1/2" | Knuckle Knuckle | 12.5 GA | 4.27 |
| 48" | 25' or 50' | 1/2" x 1/2" | Knuckle Knuckle | 12.5 GA | 4.88 |
| 60" | 25' or 50' | 1/2" x 1/2" | Knuckle Knuckle | 12.5 GA | 6.1 |
| 72" | 25' or 50' | 1/2" x 1/2" | Knuckle Knuckle | 12.5 GA | 7.32 |
| 84" | 25' or 50' | 1/2" x 1/2" | Knuckle Knuckle | 12.5 GA | 8.54 |
| 96" | 25' or 50' | 1/2" x 1/2" | Knuckle Knuckle | 12.5 GA | 9.76 |
| 108" | 25' or 50' | 1/2" x 1/2" | Knuckle Knuckle | 12.5 GA | 10.98 |
| 120" | 25' or 50' | 1/2" x 1/2" | Knuckle Knuckle | 12.5 GA | 12.2 |
| 132" | 25' or 50' | 1/2" x 1/2" | Knuckle Knuckle | 12.5 GA | 13.42 |
| 144" | 25' or 50' | 1/2" x 1/2" | Knuckle Knuckle | 12.5 GA | 14.64 |
| 156" | 25' or 50' | 1/2" x 1/2" | Knuckle Knuckle | 12.5 GA | 15.86 |
| 168" | 25' or 50' | 1/2" x 1/2" | Knuckle Knuckle | 12.5 GA | 17.08 |
| 180" | 25' or 50' | 1/2" x 1/2" | Knuckle Knuckle | 12.5 GA | 18.3 |
| 192" | 25' or 50' | 1/2" x 1/2" | Knuckle Knuckle | 12.5 GA | 19.52 |
| 204" | 25' or 50' | 1/2" x 1/2" | Knuckle Knuckle | 12.5 GA | 20.74 |
| 216" | 25' or 50' | 1/2" x 1/2" | Knuckle Knuckle | 12.5 GA | 21.96 |
| 228" | 25' or 50' | 1/2" x 1/2" | Knuckle Knuckle | 12.5 GA | 23.18 |
| 240" | 25' or 50' | 1/2" x 1/2" | Knuckle Knuckle | 12.5 GA | 24.4 |
| | | | | | |
| --- | --- | --- | --- | --- | --- |
| Fabric Height | Roll Size | Mesh Size | Selvage | Gauge | Weight / Per Foot (LBS) |
| 18" | 25' or 50' | 1/2" x 1/2" | Knuckle Knuckle | 11.5" GA | 2.25 |
| 24" | 25' or 50' | 1/2" x 1/2" | Knuckle Knuckle | 11.5" GA | 3 |
| 36" | 25' or 50' | 1/2" x 1/2" | Knuckle Knuckle | 11.5" GA | 4.5 |
| 42" | 25' or 50' | 1/2" x 1/2" | Knuckle Knuckle | 11.5" GA | 5.25 |
| 48" | 25' or 50' | 1/2" x 1/2" | Knuckle Knuckle | 11.5" GA | 6 |
| 60" | 25' or 50' | 1/2" x 1/2" | Knuckle Knuckle | 11.5" GA | 7.5 |
| 72" | 25' or 50' | 1/2" x 1/2" | Knuckle Knuckle | 11.5" GA | 9 |
| 84" | 25' or 50' | 1/2" x 1/2" | Knuckle Knuckle | 11.5" GA | 10.5 |
| 96" | 25' or 50' | 1/2" x 1/2" | Knuckle Knuckle | 11.5" GA | 12 |
| 108" | 25' or 50' | 1/2" x 1/2" | Knuckle Knuckle | 11.5" GA | 13.5 |
| 120" | 25' or 50' | 1/2" x 1/2" | Knuckle Knuckle | 11.5" GA | 15 |
| 132" | 25' or 50' | 1/2" x 1/2" | Knuckle Knuckle | 11.5" GA | 16.5 |
| 144" | 25' or 50' | 1/2" x 1/2" | Knuckle Knuckle | 11.5" GA | 18 |
| 156" | 25' or 50' | 1/2" x 1/2" | Knuckle Knuckle | 11.5" GA | 19.5 |
| 168" | 25' or 50' | 1/2" x 1/2" | Knuckle Knuckle | 11.5" GA | 21 |
| 180" | 25' or 50' | 1/2" x 1/2" | Knuckle Knuckle | 11.5" GA | 22.5 |
| 192" | 25' or 50' | 1/2" x 1/2" | Knuckle Knuckle | 11.5" GA | 24 |
| 204" | 25' or 50' | 1/2" x 1/2" | Knuckle Knuckle | 11.5" GA | 25.5 |
| 216" | 25' or 50' | 1/2" x 1/2" | Knuckle Knuckle | 11.5" GA | 27 |
| 228" | 25' or 50' | 1/2" x 1/2" | Knuckle Knuckle | 11.5" GA | 28.5 |
| 240" | 25' or 50' | 1/2" x 1/2" | Knuckle Knuckle | 11.5" GA | 30 |
| | | | | | |
| --- | --- | --- | --- | --- | --- |
| Fabric Height | Roll Size | Mesh Size | Selvage | Gauge | Weight / Per Foot (LBS) |
| 18" | 25' or 50' | 1/2" x 1/2" | Knuckle Knuckle | 11 GA | 2.745 |
| 24" | 25' or 50' | 1/2" x 1/2" | Knuckle Knuckle | 11 GA | 3.66 |
| 36" | 25' or 50' | 1/2" x 1/2" | Knuckle Knuckle | 11 GA | 5.49 |
| 42" | 25' or 50' | 1/2" x 1/2" | Knuckle Knuckle | 11 GA | 6.405 |
| 48" | 25' or 50' | 1/2" x 1/2" | Knuckle Knuckle | 11 GA | 7.32 |
| 60" | 25' or 50' | 1/2" x 1/2" | Knuckle Knuckle | 11 GA | 9.15 |
| 72" | 25' or 50' | 1/2" x 1/2" | Knuckle Knuckle | 11 GA | 10.98 |
| 84" | 25' or 50' | 1/2" x 1/2" | Knuckle Knuckle | 11 GA | 12.81 |
| 96" | 25' or 50' | 1/2" x 1/2" | Knuckle Knuckle | 11 GA | 14.64 |
| 108" | 25' or 50' | 1/2" x 1/2" | Knuckle Knuckle | 11 GA | 16.47 |
| 120" | 25' or 50' | 1/2" x 1/2" | Knuckle Knuckle | 11 GA | 18.3 |
| 132" | 25' or 50' | 1/2" x 1/2" | Knuckle Knuckle | 11 GA | 20.13 |
| 144" | 25' or 50' | 1/2" x 1/2" | Knuckle Knuckle | 11 GA | 21.96 |
| 156" | 25' or 50' | 1/2" x 1/2" | Knuckle Knuckle | 11 GA | 23.79 |
| 168" | 25' or 50' | 1/2" x 1/2" | Knuckle Knuckle | 11 GA | 25.62 |
| 180" | 25' or 50' | 1/2" x 1/2" | Knuckle Knuckle | 11 GA | 27.45 |
| 192" | 25' or 50' | 1/2" x 1/2" | Knuckle Knuckle | 11 GA | 29.28 |
| 204" | 25' or 50' | 1/2" x 1/2" | Knuckle Knuckle | 11 GA | 31.11 |
| 216" | 25' or 50' | 1/2" x 1/2" | Knuckle Knuckle | 11 GA | 32.94 |
| 228" | 25' or 50' | 1/2" x 1/2" | Knuckle Knuckle | 11 GA | 34.77 |
| 240" | 25' or 50' | 1/2" x 1/2" | Knuckle Knuckle | 11 GA | 36.6 |
| | | | | | |
| --- | --- | --- | --- | --- | --- |
| Fabric Height | Roll Size | Mesh Size | Selvage | Gauge | Weight / Per Foot (LBS) |
| 18" | 25' or 50' | 1/2" x 1/2" | Knuckle Knuckle | 10.5 GA | - |
| 24" | 25' or 50' | 1/2" x 1/2" | Knuckle Knuckle | 10.5 GA | - |
| 36" | 25' or 50' | 1/2" x 1/2" | Knuckle Knuckle | 10.5 GA | - |
| 42" | 25' or 50' | 1/2" x 1/2" | Knuckle Knuckle | 10.5 GA | - |
| 48" | 25' or 50' | 1/2" x 1/2" | Knuckle Knuckle | 10.5 GA | - |
| 60" | 25' or 50' | 1/2" x 1/2" | Knuckle Knuckle | 10.5 GA | - |
| 72" | 25' or 50' | 1/2" x 1/2" | Knuckle Knuckle | 10.5 GA | - |
| 84" | 25' or 50' | 1/2" x 1/2" | Knuckle Knuckle | 10.5 GA | - |
| 96" | 25' or 50' | 1/2" x 1/2" | Knuckle Knuckle | 10.5 GA | - |
| 108" | 25' or 50' | 1/2" x 1/2" | Knuckle Knuckle | 10.5 GA | - |
| 120" | 25' or 50' | 1/2" x 1/2" | Knuckle Knuckle | 10.5 GA | - |
| 132" | 25' or 50' | 1/2" x 1/2" | Knuckle Knuckle | 10.5 GA | - |
| 144" | 25' or 50' | 1/2" x 1/2" | Knuckle Knuckle | 10.5 GA | - |
| 156" | 25' or 50' | 1/2" x 1/2" | Knuckle Knuckle | 10.5 GA | - |
| 168" | 25' or 50' | 1/2" x 1/2" | Knuckle Knuckle | 10.5 GA | - |
| 180" | 25' or 50' | 1/2" x 1/2" | Knuckle Knuckle | 10.5 GA | - |
| 192" | 25' or 50' | 1/2" x 1/2" | Knuckle Knuckle | 10.5 GA | - |
| 204" | 25' or 50' | 1/2" x 1/2" | Knuckle Knuckle | 10.5 GA | - |
| 216" | 25' or 50' | 1/2" x 1/2" | Knuckle Knuckle | 10.5 GA | - |
| 228" | 25' or 50' | 1/2" x 1/2" | Knuckle Knuckle | 10.5 GA | - |
| 240" | 25' or 50' | 1/2" x 1/2" | Knuckle Knuckle | 10.5 GA | - |
| | | | | | |
| --- | --- | --- | --- | --- | --- |
| Fabric Height | Roll Size | Mesh Size | Selvage | Gauge | Weight / Per Foot (LBS) |
| 18" | 25' or 50' | 1/2" x 1/2" | Knuckle Knuckle | 10 GA | 3.87 |
| 24" | 25' or 50' | 1/2" x 1/2" | Knuckle Knuckle | 10 GA | 5.16 |
| 36" | 25' or 50' | 1/2" x 1/2" | Knuckle Knuckle | 10 GA | 7.74 |
| 42" | 25' or 50' | 1/2" x 1/2" | Knuckle Knuckle | 10 GA | 9.03 |
| 48" | 25' or 50' | 1/2" x 1/2" | Knuckle Knuckle | 10 GA | 10.32 |
| 60" | 25' or 50' | 1/2" x 1/2" | Knuckle Knuckle | 10 GA | 12.9 |
| 72" | 25' or 50' | 1/2" x 1/2" | Knuckle Knuckle | 10 GA | 15.48 |
| 84" | 25' or 50' | 1/2" x 1/2" | Knuckle Knuckle | 10 GA | 18.06 |
| 96" | 25' or 50' | 1/2" x 1/2" | Knuckle Knuckle | 10 GA | 20.64 |
| 108" | 25' or 50' | 1/2" x 1/2" | Knuckle Knuckle | 10 GA | 23.22 |
| 120" | 25' or 50' | 1/2" x 1/2" | Knuckle Knuckle | 10 GA | 25.8 |
| 132" | 25' or 50' | 1/2" x 1/2" | Knuckle Knuckle | 10 GA | 28.38 |
| 144" | 25' or 50' | 1/2" x 1/2" | Knuckle Knuckle | 10 GA | 30.96 |
| 156" | 25' or 50' | 1/2" x 1/2" | Knuckle Knuckle | 10 GA | 33.54 |
| 168" | 25' or 50' | 1/2" x 1/2" | Knuckle Knuckle | 10 GA | 36.12 |
| 180" | 25' or 50' | 1/2" x 1/2" | Knuckle Knuckle | 10 GA | 38.7 |
| 192" | 25' or 50' | 1/2" x 1/2" | Knuckle Knuckle | 10 GA | 41.28 |
| 204" | 25' or 50' | 1/2" x 1/2" | Knuckle Knuckle | 10 GA | 43.86 |
| 216" | 25' or 50' | 1/2" x 1/2" | Knuckle Knuckle | 10 GA | 46.44 |
| 228" | 25' or 50' | 1/2" x 1/2" | Knuckle Knuckle | 10 GA | 49.02 |
| 240" | 25' or 50' | 1/2" x 1/2" | Knuckle Knuckle | 10 GA | 51.6 |
| | | | | | |
| --- | --- | --- | --- | --- | --- |
| Fabric Height | Roll Size | Mesh Size | Selvage | Gauge | Weight / Per Foot (LBS) |
| 18" | 25' or 50' | 1/2" x 1/2" | Knuckle Knuckle | 9 GA | 4.875 |
| 24" | 25' or 50' | 1/2" x 1/2" | Knuckle Knuckle | 9 GA | 6.5 |
| 36" | 25' or 50' | 1/2" x 1/2" | Knuckle Knuckle | 9 GA | 9.75 |
| 42" | 25' or 50' | 1/2" x 1/2" | Knuckle Knuckle | 9 GA | 11.375 |
| 48" | 25' or 50' | 1/2" x 1/2" | Knuckle Knuckle | 9 GA | 13 |
| 60" | 25' or 50' | 1/2" x 1/2" | Knuckle Knuckle | 9 GA | 16.25 |
| 72" | 25' or 50' | 1/2" x 1/2" | Knuckle Knuckle | 9 GA | 19.5 |
| 84" | 25' or 50' | 1/2" x 1/2" | Knuckle Knuckle | 9 GA | 22.75 |
| 96" | 25' or 50' | 1/2" x 1/2" | Knuckle Knuckle | 9 GA | 26 |
| 108" | 25' or 50' | 1/2" x 1/2" | Knuckle Knuckle | 9 GA | 29.25 |
| 120" | 25' or 50' | 1/2" x 1/2" | Knuckle Knuckle | 9 GA | 32.5 |
| 132" | 25' or 50' | 1/2" x 1/2" | Knuckle Knuckle | 9 GA | 35.75 |
| 144" | 25' or 50' | 1/2" x 1/2" | Knuckle Knuckle | 9 GA | 39 |
| 156" | 25' or 50' | 1/2" x 1/2" | Knuckle Knuckle | 9 GA | 42.25 |
| 168" | 25' or 50' | 1/2" x 1/2" | Knuckle Knuckle | 9 GA | 45.5 |
| 180" | 25' or 50' | 1/2" x 1/2" | Knuckle Knuckle | 9 GA | 48.75 |
| 192" | 25' or 50' | 1/2" x 1/2" | Knuckle Knuckle | 9 GA | 52 |
| 204" | 25' or 50' | 1/2" x 1/2" | Knuckle Knuckle | 9 GA | 55.25 |
| 216" | 25' or 50' | 1/2" x 1/2" | Knuckle Knuckle | 9 GA | 58.5 |
| 228" | 25' or 50' | 1/2" x 1/2" | Knuckle Knuckle | 9 GA | 61.75 |
| 240" | 25' or 50' | 1/2" x 1/2" | Knuckle Knuckle | 9 GA | 65 |