Aluminized 1 3/4" x 1 3/4" Mini Mesh Chain Link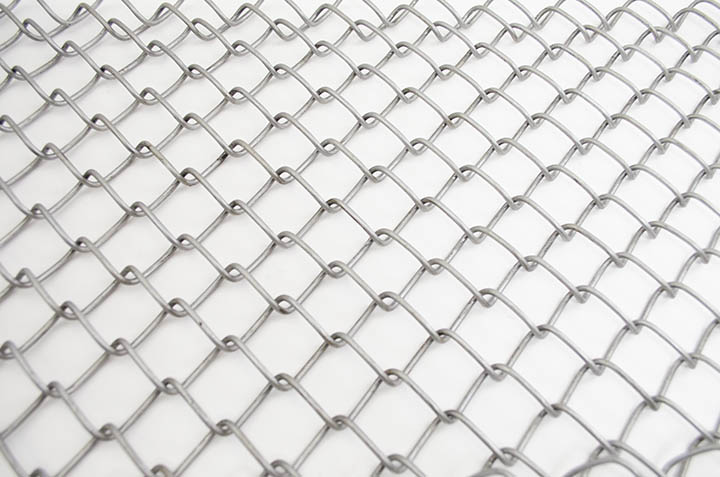 Our 1 3/4" x 1 3/4" aluminized chain link fence mini mesh is the most durable small mesh offered on the market. The care involved in production allows our mini mesh chain link fence to withstand the toughest corrosive elements and pollutants. The small mesh size is difficult for footwear to get a grip on, helping you keep your valuables and loved ones safe from intruders.
The process of producing our mini mesh takes time and skill, the result of which is a firm, high-quality product. Our special aluminum coated steel mini mesh fabric is produced by colder temperatures drawing quality, commercial-grade steel rod into wire of the appropriate diameter. This wire is cleaned and coated by bathing in molten aluminum metal. The sealed aluminized steel wire is then woven into high-grade chain link fence fabric and deliverd to the customer at the desired size.
Use aluminum coated steel chain link fence mini mesh fabric for industrial, commercial and institutional applications. Available in a range of gauges and heights.
Feet (in Rolls): 25, 50
Gauges: 6, 9, 10, 10.5, 11, 11.5, 12.5, 14
Heights: 18", 24", 36", 42", 48", 60", 72", 84", 96", 108", 120", 132", 144", 156", 168", 180", 192", 204", 216", 228", 240"
Colors: Mini mesh is available in a variety of colors. If you need a color tailored to your needs, we will find it for you! Please contact us for availability.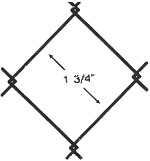 Find Your 1 3/4" x 1 3/4" Mini Mesh:
| | | | | | |
| --- | --- | --- | --- | --- | --- |
| Fabric Height | Roll Size | Mesh Size | Selvage | Gauge | Weight / Per Foot (LBS) |
| 18" | 25' or 50' | 1 3/4" x 1 3/4" | Knuckle Knuckle | 14 GA | - |
| 24" | 25' or 50' | 1 3/4" x 1 3/4" | Knuckle Knuckle | 14 GA | - |
| 36" | 25' or 50' | 1 3/4" x 1 3/4" | Knuckle Knuckle | 14 GA | - |
| 42" | 25' or 50' | 1 3/4" x 1 3/4" | Knuckle Knuckle | 14 GA | - |
| 48" | 25' or 50' | 1 3/4" x 1 3/4" | Knuckle Knuckle | 14 GA | - |
| 60" | 25' or 50' | 1 3/4" x 1 3/4" | Knuckle Knuckle | 14 GA | - |
| 72" | 25' or 50' | 1 3/4" x 1 3/4" | Knuckle Knuckle | 14 GA | - |
| 84" | 25' or 50' | 1 3/4" x 1 3/4" | Knuckle Knuckle | 14 GA | - |
| 96" | 25' or 50' | 1 3/4" x 1 3/4" | Knuckle Knuckle | 14 GA | - |
| 108" | 25' or 50' | 1 3/4" x 1 3/4" | Knuckle Knuckle | 14 GA | - |
| 120" | 25' or 50' | 1 3/4" x 1 3/4" | Knuckle Knuckle | 14 GA | - |
| 132" | 25' or 50' | 1 3/4" x 1 3/4" | Knuckle Knuckle | 14 GA | - |
| 144" | 25' or 50' | 1 3/4" x 1 3/4" | Knuckle Knuckle | 14 GA | - |
| 156" | 25' or 50' | 1 3/4" x 1 3/4" | Knuckle Knuckle | 14 GA | - |
| 168" | 25' or 50' | 1 3/4" x 1 3/4" | Knuckle Knuckle | 14 GA | - |
| 180" | 25' or 50' | 1 3/4" x 1 3/4" | Knuckle Knuckle | 14 GA | - |
| 192" | 25' or 50' | 1 3/4" x 1 3/4" | Knuckle Knuckle | 14 GA | - |
| 204" | 25' or 50' | 1 3/4" x 1 3/4" | Knuckle Knuckle | 14 GA | - |
| 216" | 25' or 50' | 1 3/4" x 1 3/4" | Knuckle Knuckle | 14 GA | - |
| 228" | 25' or 50' | 1 3/4" x 1 3/4" | Knuckle Knuckle | 14 GA | - |
| 240" | 25' or 50' | 1 3/4" x 1 3/4" | Knuckle Knuckle | 14 GA | - |
| | | | | | |
| --- | --- | --- | --- | --- | --- |
| Fabric Height | Roll Size | Mesh Size | Selvage | Gauge | Weight / Per Foot (LBS) |
| 18" | 25' or 50' | 1 3/4" x 1 3/4" | Knuckle Knuckle | 12.5 GA | - |
| 24" | 25' or 50' | 1 3/4" x 1 3/4" | Knuckle Knuckle | 12.5 GA | - |
| 36" | 25' or 50' | 1 3/4" x 1 3/4" | Knuckle Knuckle | 12.5 GA | - |
| 42" | 25' or 50' | 1 3/4" x 1 3/4" | Knuckle Knuckle | 12.5 GA | - |
| 48" | 25' or 50' | 1 3/4" x 1 3/4" | Knuckle Knuckle | 12.5 GA | - |
| 60" | 25' or 50' | 1 3/4" x 1 3/4" | Knuckle Knuckle | 12.5 GA | - |
| 72" | 25' or 50' | 1 3/4" x 1 3/4" | Knuckle Knuckle | 12.5 GA | - |
| 84" | 25' or 50' | 1 3/4" x 1 3/4" | Knuckle Knuckle | 12.5 GA | - |
| 96" | 25' or 50' | 1 3/4" x 1 3/4" | Knuckle Knuckle | 12.5 GA | - |
| 108" | 25' or 50' | 1 3/4" x 1 3/4" | Knuckle Knuckle | 12.5 GA | - |
| 120" | 25' or 50' | 1 3/4" x 1 3/4" | Knuckle Knuckle | 12.5 GA | - |
| 132" | 25' or 50' | 1 3/4" x 1 3/4" | Knuckle Knuckle | 12.5 GA | - |
| 144" | 25' or 50' | 1 3/4" x 1 3/4" | Knuckle Knuckle | 12.5 GA | - |
| 156" | 25' or 50' | 1 3/4" x 1 3/4" | Knuckle Knuckle | 12.5 GA | - |
| 168" | 25' or 50' | 1 3/4" x 1 3/4" | Knuckle Knuckle | 12.5 GA | - |
| 180" | 25' or 50' | 1 3/4" x 1 3/4" | Knuckle Knuckle | 12.5 GA | - |
| 192" | 25' or 50' | 1 3/4" x 1 3/4" | Knuckle Knuckle | 12.5 GA | - |
| 204" | 25' or 50' | 1 3/4" x 1 3/4" | Knuckle Knuckle | 12.5 GA | - |
| 216" | 25' or 50' | 1 3/4" x 1 3/4" | Knuckle Knuckle | 12.5 GA | - |
| 228" | 25' or 50' | 1 3/4" x 1 3/4" | Knuckle Knuckle | 12.5 GA | - |
| 240" | 25' or 50' | 1 3/4" x 1 3/4" | Knuckle Knuckle | 12.5 GA | - |
| | | | | | |
| --- | --- | --- | --- | --- | --- |
| Fabric Height | Roll Size | Mesh Size | Selvage | Gauge | Weight / Per Foot (LBS) |
| 18" | 25' or 50' | 1 3/4" x 1 3/4" | Knuckle Knuckle | 11.5" GA | - |
| 24" | 25' or 50' | 1 3/4" x 1 3/4" | Knuckle Knuckle | 11.5" GA | - |
| 36" | 25' or 50' | 1 3/4" x 1 3/4" | Knuckle Knuckle | 11.5" GA | - |
| 42" | 25' or 50' | 1 3/4" x 1 3/4" | Knuckle Knuckle | 11.5" GA | - |
| 48" | 25' or 50' | 1 3/4" x 1 3/4" | Knuckle Knuckle | 11.5" GA | - |
| 60" | 25' or 50' | 1 3/4" x 1 3/4" | Knuckle Knuckle | 11.5" GA | - |
| 72" | 25' or 50' | 1 3/4" x 1 3/4" | Knuckle Knuckle | 11.5" GA | - |
| 84" | 25' or 50' | 1 3/4" x 1 3/4" | Knuckle Knuckle | 11.5" GA | - |
| 96" | 25' or 50' | 1 3/4" x 1 3/4" | Knuckle Knuckle | 11.5" GA | - |
| 108" | 25' or 50' | 1 3/4" x 1 3/4" | Knuckle Knuckle | 11.5" GA | - |
| 120" | 25' or 50' | 1 3/4" x 1 3/4" | Knuckle Knuckle | 11.5" GA | - |
| 132" | 25' or 50' | 1 3/4" x 1 3/4" | Knuckle Knuckle | 11.5" GA | - |
| 144" | 25' or 50' | 1 3/4" x 1 3/4" | Knuckle Knuckle | 11.5" GA | - |
| 156" | 25' or 50' | 1 3/4" x 1 3/4" | Knuckle Knuckle | 11.5" GA | - |
| 168" | 25' or 50' | 1 3/4" x 1 3/4" | Knuckle Knuckle | 11.5" GA | - |
| 180" | 25' or 50' | 1 3/4" x 1 3/4" | Knuckle Knuckle | 11.5" GA | - |
| 192" | 25' or 50' | 1 3/4" x 1 3/4" | Knuckle Knuckle | 11.5" GA | - |
| 204" | 25' or 50' | 1 3/4" x 1 3/4" | Knuckle Knuckle | 11.5" GA | - |
| 216" | 25' or 50' | 1 3/4" x 1 3/4" | Knuckle Knuckle | 11.5" GA | - |
| 228" | 25' or 50' | 1 3/4" x 1 3/4" | Knuckle Knuckle | 11.5" GA | - |
| 240" | 25' or 50' | 1 3/4" x 1 3/4" | Knuckle Knuckle | 11.5" GA | - |
| | | | | | |
| --- | --- | --- | --- | --- | --- |
| Fabric Height | Roll Size | Mesh Size | Selvage | Gauge | Weight / Per Foot (LBS) |
| 18" | 25' or 50' | 1 3/4" x 1 3/4" | Knuckle Knuckle | 11 GA | 0.756 |
| 24" | 25' or 50' | 1 3/4" x 1 3/4" | Knuckle Knuckle | 11 GA | 1.008 |
| 36" | 25' or 50' | 1 3/4" x 1 3/4" | Knuckle Knuckle | 11 GA | 1.512 |
| 42" | 25' or 50' | 1 3/4" x 1 3/4" | Knuckle Knuckle | 11 GA | 1.764 |
| 48" | 25' or 50' | 1 3/4" x 1 3/4" | Knuckle Knuckle | 11 GA | 2.016 |
| 60" | 25' or 50' | 1 3/4" x 1 3/4" | Knuckle Knuckle | 11 GA | 2.52 |
| 72" | 25' or 50' | 1 3/4" x 1 3/4" | Knuckle Knuckle | 11 GA | 3.024 |
| 84" | 25' or 50' | 1 3/4" x 1 3/4" | Knuckle Knuckle | 11 GA | 3.528 |
| 96" | 25' or 50' | 1 3/4" x 1 3/4" | Knuckle Knuckle | 11 GA | 4.032 |
| 108" | 25' or 50' | 1 3/4" x 1 3/4" | Knuckle Knuckle | 11 GA | 4.536 |
| 120" | 25' or 50' | 1 3/4" x 1 3/4" | Knuckle Knuckle | 11 GA | 5.04 |
| 132" | 25' or 50' | 1 3/4" x 1 3/4" | Knuckle Knuckle | 11 GA | 5.544 |
| 144" | 25' or 50' | 1 3/4" x 1 3/4" | Knuckle Knuckle | 11 GA | 6.048 |
| 156" | 25' or 50' | 1 3/4" x 1 3/4" | Knuckle Knuckle | 11 GA | 6.552 |
| 168" | 25' or 50' | 1 3/4" x 1 3/4" | Knuckle Knuckle | 11 GA | 7.056 |
| 180" | 25' or 50' | 1 3/4" x 1 3/4" | Knuckle Knuckle | 11 GA | 7.56 |
| 192" | 25' or 50' | 1 3/4" x 1 3/4" | Knuckle Knuckle | 11 GA | 8.064 |
| 204" | 25' or 50' | 1 3/4" x 1 3/4" | Knuckle Knuckle | 11 GA | 8.568 |
| 216" | 25' or 50' | 1 3/4" x 1 3/4" | Knuckle Knuckle | 11 GA | 9.072 |
| 228" | 25' or 50' | 1 3/4" x 1 3/4" | Knuckle Knuckle | 11 GA | 9.576 |
| 240" | 25' or 50' | 1 3/4" x 1 3/4" | Knuckle Knuckle | 11 GA | 10.08 |
| | | | | | |
| --- | --- | --- | --- | --- | --- |
| Fabric Height | Roll Size | Mesh Size | Selvage | Gauge | Weight / Per Foot (LBS) |
| 18" | 25' or 50' | 1 3/4" x 1 3/4" | Knuckle Knuckle | 10.5 GA | - |
| 24" | 25' or 50' | 1 3/4" x 1 3/4" | Knuckle Knuckle | 10.5 GA | - |
| 36" | 25' or 50' | 1 3/4" x 1 3/4" | Knuckle Knuckle | 10.5 GA | - |
| 42" | 25' or 50' | 1 3/4" x 1 3/4" | Knuckle Knuckle | 10.5 GA | - |
| 48" | 25' or 50' | 1 3/4" x 1 3/4" | Knuckle Knuckle | 10.5 GA | - |
| 60" | 25' or 50' | 1 3/4" x 1 3/4" | Knuckle Knuckle | 10.5 GA | - |
| 72" | 25' or 50' | 1 3/4" x 1 3/4" | Knuckle Knuckle | 10.5 GA | - |
| 84" | 25' or 50' | 1 3/4" x 1 3/4" | Knuckle Knuckle | 10.5 GA | - |
| 96" | 25' or 50' | 1 3/4" x 1 3/4" | Knuckle Knuckle | 10.5 GA | - |
| 108" | 25' or 50' | 1 3/4" x 1 3/4" | Knuckle Knuckle | 10.5 GA | - |
| 120" | 25' or 50' | 1 3/4" x 1 3/4" | Knuckle Knuckle | 10.5 GA | - |
| 132" | 25' or 50' | 1 3/4" x 1 3/4" | Knuckle Knuckle | 10.5 GA | - |
| 144" | 25' or 50' | 1 3/4" x 1 3/4" | Knuckle Knuckle | 10.5 GA | - |
| 156" | 25' or 50' | 1 3/4" x 1 3/4" | Knuckle Knuckle | 10.5 GA | - |
| 168" | 25' or 50' | 1 3/4" x 1 3/4" | Knuckle Knuckle | 10.5 GA | - |
| 180" | 25' or 50' | 1 3/4" x 1 3/4" | Knuckle Knuckle | 10.5 GA | - |
| 192" | 25' or 50' | 1 3/4" x 1 3/4" | Knuckle Knuckle | 10.5 GA | - |
| 204" | 25' or 50' | 1 3/4" x 1 3/4" | Knuckle Knuckle | 10.5 GA | - |
| 216" | 25' or 50' | 1 3/4" x 1 3/4" | Knuckle Knuckle | 10.5 GA | - |
| 228" | 25' or 50' | 1 3/4" x 1 3/4" | Knuckle Knuckle | 10.5 GA | - |
| 240" | 25' or 50' | 1 3/4" x 1 3/4" | Knuckle Knuckle | 10.5 GA | - |
| | | | | | |
| --- | --- | --- | --- | --- | --- |
| Fabric Height | Roll Size | Mesh Size | Selvage | Gauge | Weight / Per Foot (LBS) |
| 18" | 25' or 50' | 1 3/4" x 1 3/4" | Knuckle Knuckle | 10 GA | 0.915 |
| 24" | 25' or 50' | 1 3/4" x 1 3/4" | Knuckle Knuckle | 10 GA | 1.22 |
| 36" | 25' or 50' | 1 3/4" x 1 3/4" | Knuckle Knuckle | 10 GA | 1.83 |
| 42" | 25' or 50' | 1 3/4" x 1 3/4" | Knuckle Knuckle | 10 GA | 2.135 |
| 48" | 25' or 50' | 1 3/4" x 1 3/4" | Knuckle Knuckle | 10 GA | 2.44 |
| 60" | 25' or 50' | 1 3/4" x 1 3/4" | Knuckle Knuckle | 10 GA | 3.05 |
| 72" | 25' or 50' | 1 3/4" x 1 3/4" | Knuckle Knuckle | 10 GA | 3.66 |
| 84" | 25' or 50' | 1 3/4" x 1 3/4" | Knuckle Knuckle | 10 GA | 4.27 |
| 96" | 25' or 50' | 1 3/4" x 1 3/4" | Knuckle Knuckle | 10 GA | 4.88 |
| 108" | 25' or 50' | 1 3/4" x 1 3/4" | Knuckle Knuckle | 10 GA | 5.49 |
| 120" | 25' or 50' | 1 3/4" x 1 3/4" | Knuckle Knuckle | 10 GA | 6.1 |
| 132" | 25' or 50' | 1 3/4" x 1 3/4" | Knuckle Knuckle | 10 GA | 6.71 |
| 144" | 25' or 50' | 1 3/4" x 1 3/4" | Knuckle Knuckle | 10 GA | 7.32 |
| 156" | 25' or 50' | 1 3/4" x 1 3/4" | Knuckle Knuckle | 10 GA | 7.93 |
| 168" | 25' or 50' | 1 3/4" x 1 3/4" | Knuckle Knuckle | 10 GA | 8.54 |
| 180" | 25' or 50' | 1 3/4" x 1 3/4" | Knuckle Knuckle | 10 GA | 9.15 |
| 192" | 25' or 50' | 1 3/4" x 1 3/4" | Knuckle Knuckle | 10 GA | 9.76 |
| 204" | 25' or 50' | 1 3/4" x 1 3/4" | Knuckle Knuckle | 10 GA | 10.37 |
| 216" | 25' or 50' | 1 3/4" x 1 3/4" | Knuckle Knuckle | 10 GA | 10.98 |
| 228" | 25' or 50' | 1 3/4" x 1 3/4" | Knuckle Knuckle | 10 GA | 11.59 |
| 240' | 25' or 50' | 1 3/4" x 1 3/4" | Knuckle Knuckle | 10 GA | 12.2 |
| | | | | | |
| --- | --- | --- | --- | --- | --- |
| Fabric Height | Roll Size | Mesh Size | Selvage | Gauge | Weight / Per Foot (LBS) |
| 18" | 25' or 50' | 1 3/4" x 1 3/4" | Knuckle Knuckle | 9 GA | 1.1745 |
| 24" | 25' or 50' | 1 3/4" x 1 3/4" | Knuckle Knuckle | 9 GA | 1.566 |
| 36" | 25' or 50' | 1 3/4" x 1 3/4" | Knuckle Knuckle | 9 GA | 2.349 |
| 42" | 25' or 50' | 1 3/4" x 1 3/4" | Knuckle Knuckle | 9 GA | 2.7405 |
| 48" | 25' or 50' | 1 3/4" x 1 3/4" | Knuckle Knuckle | 9 GA | 3.132 |
| 60" | 25' or 50' | 1 3/4" x 1 3/4" | Knuckle Knuckle | 9 GA | 3.915 |
| 72" | 25' or 50' | 1 3/4" x 1 3/4" | Knuckle Knuckle | 9 GA | 4.698 |
| 84" | 25' or 50' | 1 3/4" x 1 3/4" | Knuckle Knuckle | 9 GA | 5.481 |
| 96" | 25' or 50' | 1 3/4" x 1 3/4" | Knuckle Knuckle | 9 GA | 6.264 |
| 108" | 25' or 50' | 1 3/4" x 1 3/4" | Knuckle Knuckle | 9 GA | 7.047 |
| 120" | 25' or 50' | 1 3/4" x 1 3/4" | Knuckle Knuckle | 9 GA | 7.83 |
| 132" | 25' or 50' | 1 3/4" x 1 3/4" | Knuckle Knuckle | 9 GA | 8.613 |
| 144" | 25' or 50' | 1 3/4" x 1 3/4" | Knuckle Knuckle | 9 GA | 9.396 |
| 156" | 25' or 50' | 1 3/4" x 1 3/4" | Knuckle Knuckle | 9 GA | 10.179 |
| 168" | 25' or 50' | 1 3/4" x 1 3/4" | Knuckle Knuckle | 9 GA | 10.962 |
| 180" | 25' or 50' | 1 3/4" x 1 3/4" | Knuckle Knuckle | 9 GA | 11.745 |
| 192" | 25' or 50' | 1 3/4" x 1 3/4" | Knuckle Knuckle | 9 GA | 12.528 |
| 204" | 25' or 50' | 1 3/4" x 1 3/4" | Knuckle Knuckle | 9 GA | 13.311 |
| 216" | 25' or 50' | 1 3/4" x 1 3/4" | Knuckle Knuckle | 9 GA | 14.094 |
| 228" | 25' or 50' | 1 3/4" x 1 3/4" | Knuckle Knuckle | 9 GA | 14.877 |
| 240" | 25' or 50' | 1 3/4" x 1 3/4" | Knuckle Knuckle | 9 GA | 15.66 |
| | | | | | |
| --- | --- | --- | --- | --- | --- |
| Fabric Height | Roll Size | Mesh Size | Selvage | Gauge | Weight / Per Foot (LBS) |
| 18" | 25' or 50' | 1 3/4" x 1 3/4" | Knuckle Knuckle | 6 GA | 2.205 |
| 24" | 25' or 50' | 1 3/4" x 1 3/4" | Knuckle Knuckle | 6 GA | 2.94 |
| 36" | 25' or 50' | 1 3/4" x 1 3/4" | Knuckle Knuckle | 6 GA | 4.41 |
| 42" | 25' or 50' | 1 3/4" x 1 3/4" | Knuckle Knuckle | 6 GA | 5.145 |
| 48" | 25' or 50' | 1 3/4" x 1 3/4" | Knuckle Knuckle | 6 GA | 5.88 |
| 60" | 25' or 50' | 1 3/4" x 1 3/4" | Knuckle Knuckle | 6 GA | 7.35 |
| 72" | 25' or 50' | 1 3/4" x 1 3/4" | Knuckle Knuckle | 6 GA | 8.82 |
| 84" | 25' or 50' | 1 3/4" x 1 3/4" | Knuckle Knuckle | 6 GA | 10.29 |
| 96" | 25' or 50' | 1 3/4" x 1 3/4" | Knuckle Knuckle | 6 GA | 11.76 |
| 108" | 25' or 50' | 1 3/4" x 1 3/4" | Knuckle Knuckle | 6 GA | 13.23 |
| 120" | 25' or 50' | 1 3/4" x 1 3/4" | Knuckle Knuckle | 6 GA | 14.7 |
| 132" | 25' or 50' | 1 3/4" x 1 3/4" | Knuckle Knuckle | 6 GA | 16.17 |
| 144" | 25' or 50' | 1 3/4" x 1 3/4" | Knuckle Knuckle | 6 GA | 17.64 |
| 156" | 25' or 50' | 1 3/4" x 1 3/4" | Knuckle Knuckle | 6 GA | 19.11 |
| 168" | 25' or 50' | 1 3/4" x 1 3/4" | Knuckle Knuckle | 6 GA | 20.58 |
| 180" | 25' or 50' | 1 3/4" x 1 3/4" | Knuckle Knuckle | 6 GA | 22.05 |
| 192" | 25' or 50' | 1 3/4" x 1 3/4" | Knuckle Knuckle | 6 GA | 23.52 |
| 204" | 25' or 50' | 1 3/4" x 1 3/4" | Knuckle Knuckle | 6 GA | 24.99 |
| 216" | 25' or 50' | 1 3/4" x 1 3/4" | Knuckle Knuckle | 6 GA | 26.46 |
| 228" | 25' or 50' | 1 3/4" x 1 3/4" | Knuckle Knuckle | 6 GA | 27.93 |
| 240" | 25' or 50' | 1 3/4" x 1 3/4" | Knuckle Knuckle | 6 GA | 29.4 |