Aluminized 2" x 2" Mini Mesh Chain Link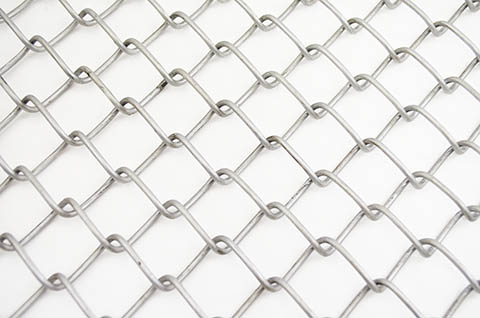 Mini mesh 2" x 2" aluminized chain link fence fabric is perfect for protecting your valuables and loved ones. The small mesh size makes it difficult for footwear and paws to get a grip, ensuring your property stays safe. The aluminum coating will keep your fence well maintained for years to come.
The quality of our fence fabric is apparent in the manufacturing process. Our chain links are produced by cold temperatures drawing steel rod into wire of the desired diameter. It is then coated with aluminum by passing through a bath of molten metal. This sealed wire is protected against corrosive elements and is woven into high-grade chain link fence fabric.
Mini mesh comes in 25- or 50-foot rolls and is available in a wide range of heights gauges. We recommend mini mesh for industrial, commercial and institutional applications.
Feet (in Rolls): 25, 50
Gauges: 6, 9, 10, 10.5, 11, 11.5, 12.5, 14
Heights: 18", 24", 36", 42", 48", 60", 72", 84", 96", 108", 120", 132", 144", 156", 168", 180", 192", 204", 216", 228", 240"
Colors: Mini mesh is available in a variety of colors. If you need a color tailored to your needs, we will find it for you!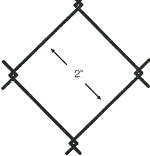 Find Your 2" x 2" Mini Mesh:
| | | | | | |
| --- | --- | --- | --- | --- | --- |
| Fabric Height | Roll Size | Mesh Size | Selvage | Gauge | Weight / Per Foot (LBS) |
| 18" | 25' or 50' | 2" x 2" | Knuckle Knuckle | 14 GA | - |
| 24" | 25' or 50' | 2" x 2" | Knuckle Knuckle | 14 GA | - |
| 36" | 25' or 50' | 2" x 2" | Knuckle Knuckle | 14 GA | - |
| 42" | 25' or 50' | 2" x 2" | Knuckle Knuckle | 14 GA | - |
| 48" | 25' or 50' | 2" x 2" | Knuckle Knuckle | 14 GA | - |
| 60" | 25' or 50' | 2" x 2" | Knuckle Knuckle | 14 GA | - |
| 72" | 25' or 50' | 2" x 2" | Knuckle Knuckle | 14 GA | - |
| 84" | 25' or 50' | 2" x 2" | Knuckle Knuckle | 14 GA | - |
| 96" | 25' or 50' | 2" x 2" | Knuckle Knuckle | 14 GA | - |
| 108" | 25' or 50' | 2" x 2" | Knuckle Knuckle | 14 GA | - |
| 120" | 25' or 50' | 2" x 2" | Knuckle Knuckle | 14 GA | - |
| 132" | 25' or 50' | 2" x 2" | Knuckle Knuckle | 14 GA | - |
| 144" | 25' or 50' | 2" x 2" | Knuckle Knuckle | 14 GA | - |
| 156" | 25' or 50' | 2" x 2" | Knuckle Knuckle | 14 GA | - |
| 168" | 25' or 50' | 2" x 2" | Knuckle Knuckle | 14 GA | - |
| 180" | 25' or 50' | 2" x 2" | Knuckle Knuckle | 14 GA | - |
| 192" | 25' or 50' | 2" x 2" | Knuckle Knuckle | 14 GA | - |
| 204" | 25' or 50' | 2" x 2" | Knuckle Knuckle | 14 GA | - |
| 216" | 25' or 50' | 2" x 2" | Knuckle Knuckle | 14 GA | - |
| 228" | 25' or 50' | 2" x 2" | Knuckle Knuckle | 14 GA | - |
| 240" | 25' or 50' | 2" x 2" | Knuckle Knuckle | 14 GA | - |
| | | | | | |
| --- | --- | --- | --- | --- | --- |
| Fabric Height | Roll Size | Mesh Size | Selvage | Gauge | Weight / Per Foot (LBS) |
| 18" | 25' or 50' | 2" x 2" | Knuckle Knuckle | 12.5 GA | 0.48 |
| 24" | 25' or 50' | 2" x 2" | Knuckle Knuckle | 12.5 GA | 0.64 |
| 36" | 25' or 50' | 2" x 2" | Knuckle Knuckle | 12.5 GA | 0.96 |
| 42" | 25' or 50' | 2" x 2" | Knuckle Knuckle | 12.5 GA | 1.12 |
| 48" | 25' or 50' | 2" x 2" | Knuckle Knuckle | 12.5 GA | 1.28 |
| 60" | 25' or 50' | 2" x 2" | Knuckle Knuckle | 12.5 GA | 1.6 |
| 72" | 25' or 50' | 2" x 2" | Knuckle Knuckle | 12.5 GA | 1.92 |
| 84" | 25' or 50' | 2" x 2" | Knuckle Knuckle | 12.5 GA | 2.24 |
| 96" | 25' or 50' | 2" x 2" | Knuckle Knuckle | 12.5 GA | 2.56 |
| 108" | 25' or 50' | 2" x 2" | Knuckle Knuckle | 12.5 GA | 2.88 |
| 120" | 25' or 50' | 2" x 2" | Knuckle Knuckle | 12.5 GA | 3.2 |
| 132" | 25' or 50' | 2" x 2" | Knuckle Knuckle | 12.5 GA | 3.52 |
| 144" | 25' or 50' | 2" x 2" | Knuckle Knuckle | 12.5 GA | 3.84 |
| 156" | 25' or 50' | 2" x 2" | Knuckle Knuckle | 12.5 GA | 4.16 |
| 168" | 25' or 50' | 2" x 2" | Knuckle Knuckle | 12.5 GA | 4.48 |
| 180" | 25' or 50' | 2" x 2" | Knuckle Knuckle | 12.5 GA | 4.8 |
| 192" | 25' or 50' | 2" x 2" | Knuckle Knuckle | 12.5 GA | 5.12 |
| 204" | 25' or 50' | 2" x 2" | Knuckle Knuckle | 12.5 GA | 5.44 |
| 216" | 25' or 50' | 2" x 2" | Knuckle Knuckle | 12.5 GA | 5.76 |
| 228" | 25' or 50' | 2" x 2" | Knuckle Knuckle | 12.5 GA | 6.08 |
| 240' | 25' or 50' | 2" x 2" | Knuckle Knuckle | 12.5 GA | 6.4 |
| | | | | | |
| --- | --- | --- | --- | --- | --- |
| Fabric Height | Roll Size | Mesh Size | Selvage | Gauge | Weight / Per Foot (LBS) |
| 18" | 25' or 50' | 2" x 2" | Knuckle Knuckle | 11.5" GA | 0.555 |
| 24" | 25' or 50' | 2" x 2" | Knuckle Knuckle | 11.5" GA | 0.74 |
| 36" | 25' or 50' | 2" x 2" | Knuckle Knuckle | 11.5" GA | 1.11 |
| 42" | 25' or 50' | 2" x 2" | Knuckle Knuckle | 11.5" GA | 1.295 |
| 48" | 25' or 50' | 2" x 2" | Knuckle Knuckle | 11.5" GA | 1.48 |
| 60" | 25' or 50' | 2" x 2" | Knuckle Knuckle | 11.5" GA | 1.85 |
| 72" | 25' or 50' | 2" x 2" | Knuckle Knuckle | 11.5" GA | 2.22 |
| 84" | 25' or 50' | 2" x 2" | Knuckle Knuckle | 11.5" GA | 2.59 |
| 96" | 25' or 50' | 2" x 2" | Knuckle Knuckle | 11.5" GA | 2.96 |
| 108" | 25' or 50' | 2" x 2" | Knuckle Knuckle | 11.5" GA | 3.33 |
| 120" | 25' or 50' | 2" x 2" | Knuckle Knuckle | 11.5" GA | 3.7 |
| 132" | 25' or 50' | 2" x 2" | Knuckle Knuckle | 11.5" GA | 4.07 |
| 144" | 25' or 50' | 2" x 2" | Knuckle Knuckle | 11.5" GA | 4.44 |
| 156" | 25' or 50' | 2" x 2" | Knuckle Knuckle | 11.5" GA | 4.81 |
| 168" | 25' or 50' | 2" x 2" | Knuckle Knuckle | 11.5" GA | 5.18 |
| 180" | 25' or 50' | 2" x 2" | Knuckle Knuckle | 11.5" GA | 5.55 |
| 192" | 25' or 50' | 2" x 2" | Knuckle Knuckle | 11.5" GA | 5.92 |
| 204" | 25' or 50' | 2" x 2" | Knuckle Knuckle | 11.5" GA | 6.29 |
| 216" | 25' or 50' | 2" x 2" | Knuckle Knuckle | 11.5" GA | 6.66 |
| 228" | 25' or 50' | 2" x 2" | Knuckle Knuckle | 11.5" GA | 7.03 |
| 240" | 25' or 50' | 2" x 2" | Knuckle Knuckle | 11.5" GA | 7.4 |
| | | | | | |
| --- | --- | --- | --- | --- | --- |
| Fabric Height | Roll Size | Mesh Size | Selvage | Gauge | Weight / Per Foot (LBS) |
| 18" | 25' or 50' | 2" x 2" | Knuckle Knuckle | 11 GA | 0.675 |
| 24" | 25' or 50' | 2" x 2" | Knuckle Knuckle | 11 GA | 0.9 |
| 36" | 25' or 50' | 2" x 2" | Knuckle Knuckle | 11 GA | 1.35 |
| 42" | 25' or 50' | 2" x 2" | Knuckle Knuckle | 11 GA | 1.575 |
| 48" | 25' or 50' | 2" x 2" | Knuckle Knuckle | 11 GA | 1.8 |
| 60" | 25' or 50' | 2" x 2" | Knuckle Knuckle | 11 GA | 2.25 |
| 72" | 25' or 50' | 2" x 2" | Knuckle Knuckle | 11 GA | 2.7 |
| 84" | 25' or 50' | 2" x 2" | Knuckle Knuckle | 11 GA | 3.15 |
| 96" | 25' or 50' | 2" x 2" | Knuckle Knuckle | 11 GA | 3.6 |
| 108" | 25' or 50' | 2" x 2" | Knuckle Knuckle | 11 GA | 4.05 |
| 120" | 25' or 50' | 2" x 2" | Knuckle Knuckle | 11 GA | 4.5 |
| 132" | 25' or 50' | 2" x 2" | Knuckle Knuckle | 11 GA | 4.95 |
| 144" | 25' or 50' | 2" x 2" | Knuckle Knuckle | 11 GA | 5.4 |
| 156" | 25' or 50' | 2" x 2" | Knuckle Knuckle | 11 GA | 5.85 |
| 168" | 25' or 50' | 2" x 2" | Knuckle Knuckle | 11 GA | 6.3 |
| 180" | 25' or 50' | 2" x 2" | Knuckle Knuckle | 11 GA | 6.75 |
| 192" | 25' or 50' | 2" x 2" | Knuckle Knuckle | 11 GA | 7.2 |
| 204" | 25' or 50' | 2" x 2" | Knuckle Knuckle | 11 GA | 7.65 |
| 216" | 25' or 50' | 2" x 2" | Knuckle Knuckle | 11 GA | 8.1 |
| 228" | 25' or 50' | 2" x 2" | Knuckle Knuckle | 11 GA | 8.55 |
| 240" | 25' or 50' | 2" x 2" | Knuckle Knuckle | 11 GA | 9 |
| | | | | | |
| --- | --- | --- | --- | --- | --- |
| Fabric Height | Roll Size | Mesh Size | Selvage | Gauge | Weight / Per Foot (LBS) |
| 18" | 25' or 50' | 2" x 2" | Knuckle Knuckle | 10.5 GA | 0.78 |
| 24" | 25' or 50' | 2" x 2" | Knuckle Knuckle | 10.5 GA | 1.04 |
| 36" | 25' or 50' | 2" x 2" | Knuckle Knuckle | 10.5 GA | 1.56 |
| 42" | 25' or 50' | 2" x 2" | Knuckle Knuckle | 10.5 GA | 1.82 |
| 48" | 25' or 50' | 2" x 2" | Knuckle Knuckle | 10.5 GA | 2.08 |
| 60" | 25' or 50' | 2" x 2" | Knuckle Knuckle | 10.5 GA | 2.6 |
| 72" | 25' or 50' | 2" x 2" | Knuckle Knuckle | 10.5 GA | 3.12 |
| 84" | 25' or 50' | 2" x 2" | Knuckle Knuckle | 10.5 GA | 3.64 |
| 96" | 25' or 50' | 2" x 2" | Knuckle Knuckle | 10.5 GA | 4.16 |
| 108" | 25' or 50' | 2" x 2" | Knuckle Knuckle | 10.5 GA | 4.68 |
| 120" | 25' or 50' | 2" x 2" | Knuckle Knuckle | 10.5 GA | 5.2 |
| 132" | 25' or 50' | 2" x 2" | Knuckle Knuckle | 10.5 GA | 5.72 |
| 144" | 25' or 50' | 2" x 2" | Knuckle Knuckle | 10.5 GA | 6.24 |
| 156" | 25' or 50' | 2" x 2" | Knuckle Knuckle | 10.5 GA | 6.76 |
| 168" | 25' or 50' | 2" x 2" | Knuckle Knuckle | 10.5 GA | 7.28 |
| 180" | 25' or 50' | 2" x 2" | Knuckle Knuckle | 10.5 GA | 7.8 |
| 192" | 25' or 50' | 2" x 2" | Knuckle Knuckle | 10.5 GA | 8.32 |
| 204" | 25' or 50' | 2" x 2" | Knuckle Knuckle | 10.5 GA | 8.84 |
| 216" | 25' or 50' | 2" x 2" | Knuckle Knuckle | 10.5 GA | 9.36 |
| 228" | 25' or 50' | 2" x 2" | Knuckle Knuckle | 10.5 GA | 9.88 |
| 240" | 25' or 50' | 2" x 2" | Knuckle Knuckle | 10.5 GA | 10.4 |
| | | | | | |
| --- | --- | --- | --- | --- | --- |
| Fabric Height | Roll Size | Mesh Size | Selvage | Gauge | Weight / Per Foot (LBS) |
| 18" | 25' or 50' | 2" x 2" | Knuckle Knuckle | 10 GA | 0.855 |
| 24" | 25' or 50' | 2" x 2" | Knuckle Knuckle | 10 GA | 1.14 |
| 36" | 25' or 50' | 2" x 2" | Knuckle Knuckle | 10 GA | 1.71 |
| 42" | 25' or 50' | 2" x 2" | Knuckle Knuckle | 10 GA | 1.995 |
| 48" | 25' or 50' | 2" x 2" | Knuckle Knuckle | 10 GA | 2.28 |
| 60" | 25' or 50' | 2" x 2" | Knuckle Knuckle | 10 GA | 2.85 |
| 72" | 25' or 50' | 2" x 2" | Knuckle Knuckle | 10 GA | 3.42 |
| 84" | 25' or 50' | 2" x 2" | Knuckle Knuckle | 10 GA | 3.99 |
| 96" | 25' or 50' | 2" x 2" | Knuckle Knuckle | 10 GA | 4.56 |
| 108" | 25' or 50' | 2" x 2" | Knuckle Knuckle | 10 GA | 5.13 |
| 120" | 25' or 50' | 2" x 2" | Knuckle Knuckle | 10 GA | 5.7 |
| 132" | 25' or 50' | 2" x 2" | Knuckle Knuckle | 10 GA | 6.27 |
| 144" | 25' or 50' | 2" x 2" | Knuckle Knuckle | 10 GA | 6.84 |
| 156" | 25' or 50' | 2" x 2" | Knuckle Knuckle | 10 GA | 7.41 |
| 168" | 25' or 50' | 2" x 2" | Knuckle Knuckle | 10 GA | 7.98 |
| 180" | 25' or 50' | 2" x 2" | Knuckle Knuckle | 10 GA | 8.55 |
| 192" | 25' or 50' | 2" x 2" | Knuckle Knuckle | 10 GA | 9.12 |
| 204" | 25' or 50' | 2" x 2" | Knuckle Knuckle | 10 GA | 9.69 |
| 216" | 25' or 50' | 2" x 2" | Knuckle Knuckle | 10 GA | 10.26 |
| 228" | 25' or 50' | 2" x 2" | Knuckle Knuckle | 10 GA | 10.83 |
| 240" | 25' or 50' | 2" x 2" | Knuckle Knuckle | 10 GA | 11.4 |
| | | | | | |
| --- | --- | --- | --- | --- | --- |
| Fabric Height | Roll Size | Mesh Size | Selvage | Gauge | Weight / Per Foot (LBS) |
| 18" | 25' or 50' | 2" x 2" | Knuckle Knuckle | 9 GA | 1.017 |
| 24" | 25' or 50' | 2" x 2" | Knuckle Knuckle | 9 GA | 1.356 |
| 36" | 25' or 50' | 2" x 2" | Knuckle Knuckle | 9 GA | 2.034 |
| 42" | 25' or 50' | 2" x 2" | Knuckle Knuckle | 9 GA | 2.373 |
| 48" | 25' or 50' | 2" x 2" | Knuckle Knuckle | 9 GA | 2.712 |
| 60" | 25' or 50' | 2" x 2" | Knuckle Knuckle | 9 GA | 3.39 |
| 72" | 25' or 50' | 2" x 2" | Knuckle Knuckle | 9 GA | 4.068 |
| 84" | 25' or 50' | 2" x 2" | Knuckle Knuckle | 9 GA | 4.746 |
| 96" | 25' or 50' | 2" x 2" | Knuckle Knuckle | 9 GA | 5.424 |
| 108" | 25' or 50' | 2" x 2" | Knuckle Knuckle | 9 GA | 6.102 |
| 120" | 25' or 50' | 2" x 2" | Knuckle Knuckle | 9 GA | 6.78 |
| 132" | 25' or 50' | 2" x 2" | Knuckle Knuckle | 9 GA | 7.458 |
| 144" | 25' or 50' | 2" x 2" | Knuckle Knuckle | 9 GA | 8.136 |
| 156" | 25' or 50' | 2" x 2" | Knuckle Knuckle | 9 GA | 8.814 |
| 168" | 25' or 50' | 2" x 2" | Knuckle Knuckle | 9 GA | 9.492 |
| 180" | 25' or 50' | 2" x 2" | Knuckle Knuckle | 9 GA | 10.17 |
| 192" | 25' or 50' | 2" x 2" | Knuckle Knuckle | 9 GA | 10.848 |
| 204" | 25' or 50' | 2" x 2" | Knuckle Knuckle | 9 GA | 11.526 |
| 216" | 25' or 50' | 2" x 2" | Knuckle Knuckle | 9 GA | 12.204 |
| 228" | 25' or 50' | 2" x 2" | Knuckle Knuckle | 9 GA | 12.882 |
| 240" | 25' or 50' | 2" x 2" | Knuckle Knuckle | 9 GA | 13.56 |
| | | | | | |
| --- | --- | --- | --- | --- | --- |
| Fabric Height | Roll Size | Mesh Size | Selvage | Gauge | Weight / Per Foot (LBS) |
| 18" | 25' or 50' | 2" x 2" | Knuckle Knuckle | 6 GA | 1.8 |
| 24" | 25' or 50' | 2" x 2" | Knuckle Knuckle | 6 GA | 2.4 |
| 36" | 25' or 50' | 2" x 2" | Knuckle Knuckle | 6 GA | 3.6 |
| 42" | 25' or 50' | 2" x 2" | Knuckle Knuckle | 6 GA | 4.2 |
| 48" | 25' or 50' | 2" x 2" | Knuckle Knuckle | 6 GA | 4.8 |
| 60" | 25' or 50' | 2" x 2" | Knuckle Knuckle | 6 GA | 6 |
| 72" | 25' or 50' | 2" x 2" | Knuckle Knuckle | 6 GA | 7.2 |
| 84" | 25' or 50' | 2" x 2" | Knuckle Knuckle | 6 GA | 8.4 |
| 96" | 25' or 50' | 2" x 2" | Knuckle Knuckle | 6 GA | 9.6 |
| 108" | 25' or 50' | 2" x 2" | Knuckle Knuckle | 6 GA | 10.8 |
| 120" | 25' or 50' | 2" x 2" | Knuckle Knuckle | 6 GA | 12 |
| 132" | 25' or 50' | 2" x 2" | Knuckle Knuckle | 6 GA | 13.2 |
| 144" | 25' or 50' | 2" x 2" | Knuckle Knuckle | 6 GA | 14.4 |
| 156" | 25' or 50' | 2" x 2" | Knuckle Knuckle | 6 GA | 15.6 |
| 168" | 25' or 50' | 2" x 2" | Knuckle Knuckle | 6 GA | 16.8 |
| 180" | 25' or 50' | 2" x 2" | Knuckle Knuckle | 6 GA | 18 |
| 192" | 25' or 50' | 2" x 2" | Knuckle Knuckle | 6 GA | 19.2 |
| 204" | 25' or 50' | 2" x 2" | Knuckle Knuckle | 6 GA | 20.4 |
| 216" | 25' or 50' | 2" x 2" | Knuckle Knuckle | 6 GA | 21.6 |
| 228" | 25' or 50' | 2" x 2" | Knuckle Knuckle | 6 GA | 22.8 |
| 240" | 25' or 50' | 2" x 2" | Knuckle Knuckle | 6 GA | 24 |