Aluminized 3/8" x 3/8" Mini Mesh Chain Link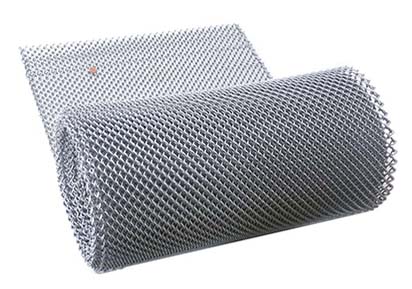 Mini mesh 3/8" x 3/8" aluminized chain link fence offers state-of-the-art fabric for your fence needs. The unique small mesh size makes for indispensable area protection, as footwear and paws can't get trapped in the links, making the fence virtually impossible to climb. Available in a wide range of gauges ( 9, 10, 10.5, 11, 11.5, 12.5, 14 ) and heights, you're sure to find the perfect mini mesh fence.
Our aluminum coated steel chain link fence mini mesh fabric is produced by colder temperatures drawing commercial-grade steel into wire of the appropriate diameter. The wire is passed through a molten bath of aluminum metal. This sealed aluminized steel wire is then woven into high-grade chain link fence fabric, cut to the right size, and delivered to the customer.
Mini mesh fabric is intended for industrial, commercial and institutional applications. It has been implemented in prison, road, dock, airport, housing, forestry, and military use.
Feet (in Rolls): 25, 50
Gauges: 9, 10, 10.5, 11, 11.5, 12.5, 14
Heights: 18", 24", 36", 42", 48", 60", 72", 84", 96", 108", 120", 132", 144", 156", 168", 180", 192", 204", 216", 228", 240"
Colors: Mini mesh is available in a variety of colors. If you need a color tailored to your needs, we will find it for you! Please contact us for availability.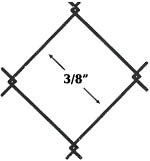 Find Your 3/8" x 3/8" Mini Mesh:
| | | | | | |
| --- | --- | --- | --- | --- | --- |
| Fabric Height | Roll Size | Mesh Size | Selvage | Gauge | Weight / Per Foot (LBS) |
| 18" | 25' or 50' | 3/8" x 3/8" | Knuckle Knuckle | 14 GA | 1.65 |
| 24" | 25' or 50' | 3/8" x 3/8" | Knuckle Knuckle | 14 GA | 2.2 |
| 36" | 25' or 50' | 3/8" x 3/8" | Knuckle Knuckle | 14 GA | 3.3 |
| 42" | 25' or 50' | 3/8" x 3/8" | Knuckle Knuckle | 14 GA | 3.85 |
| 48" | 25' or 50' | 3/8" x 3/8" | Knuckle Knuckle | 14 GA | 4.4 |
| 60" | 25' or 50' | 3/8" x 3/8" | Knuckle Knuckle | 14 GA | 5.5 |
| 72" | 25' or 50' | 3/8" x 3/8" | Knuckle Knuckle | 14 GA | 6.6 |
| 84" | 25' or 50' | 3/8" x 3/8" | Knuckle Knuckle | 14 GA | 7.7 |
| 96" | 25' or 50' | 3/8" x 3/8" | Knuckle Knuckle | 14 GA | 8.8 |
| 108" | 25' or 50' | 3/8" x 3/8" | Knuckle Knuckle | 14 GA | 9.9 |
| 120" | 25' or 50' | 3/8" x 3/8" | Knuckle Knuckle | 14 GA | 11 |
| 132" | 25' or 50' | 3/8" x 3/8" | Knuckle Knuckle | 14 GA | 12.1 |
| 144" | 25' or 50' | 3/8" x 3/8" | Knuckle Knuckle | 14 GA | 13.2 |
| 156" | 25' or 50' | 3/8" x 3/8" | Knuckle Knuckle | 14 GA | 14.3 |
| 168" | 25' or 50' | 3/8" x 3/8" | Knuckle Knuckle | 14 GA | 15.4 |
| 180" | 25' or 50' | 3/8" x 3/8" | Knuckle Knuckle | 14 GA | 16.5 |
| 192" | 25' or 50' | 3/8" x 3/8" | Knuckle Knuckle | 14 GA | 17.6 |
| 204" | 25' or 50' | 3/8" x 3/8" | Knuckle Knuckle | 14 GA | 18.7 |
| 216" | 25' or 50' | 3/8" x 3/8" | Knuckle Knuckle | 14 GA | 19.8 |
| 228" | 25' or 50' | 3/8" x 3/8" | Knuckle Knuckle | 14 GA | 20.9 |
| 240" | 25' or 50' | 3/8" x 3/8" | Knuckle Knuckle | 14 GA | 22 |
| | | | | | |
| --- | --- | --- | --- | --- | --- |
| Fabric Height | Roll Size | Mesh Size | Selvage | Gauge | Weight / Per Foot (LBS) |
| 18" | 25' or 50' | 3/8" x 3/8" | Knuckle Knuckle | 12.5 GA | 2.205 |
| 24" | 25' or 50' | 3/8" x 3/8" | Knuckle Knuckle | 12.5 GA | 2.94 |
| 36" | 25' or 50' | 3/8" x 3/8" | Knuckle Knuckle | 12.5 GA | 4.41 |
| 42" | 25' or 50' | 3/8" x 3/8" | Knuckle Knuckle | 12.5 GA | 5.145 |
| 48" | 25' or 50' | 3/8" x 3/8" | Knuckle Knuckle | 12.5 GA | 5.88 |
| 60" | 25' or 50' | 3/8" x 3/8" | Knuckle Knuckle | 12.5 GA | 7.35 |
| 72" | 25' or 50' | 3/8" x 3/8" | Knuckle Knuckle | 12.5 GA | 8.82 |
| 84" | 25' or 50' | 3/8" x 3/8" | Knuckle Knuckle | 12.5 GA | 10.29 |
| 96" | 25' or 50' | 3/8" x 3/8" | Knuckle Knuckle | 12.5 GA | 11.76 |
| 108" | 25' or 50' | 3/8" x 3/8" | Knuckle Knuckle | 12.5 GA | 13.23 |
| 120" | 25' or 50' | 3/8" x 3/8" | Knuckle Knuckle | 12.5 GA | 14.7 |
| 132" | 25' or 50' | 3/8" x 3/8" | Knuckle Knuckle | 12.5 GA | 16.17 |
| 144" | 25' or 50' | 3/8" x 3/8" | Knuckle Knuckle | 12.5 GA | 17.64 |
| 156" | 25' or 50' | 3/8" x 3/8" | Knuckle Knuckle | 12.5 GA | 19.11 |
| 168" | 25' or 50' | 3/8" x 3/8" | Knuckle Knuckle | 12.5 GA | 20.58 |
| 180" | 25' or 50' | 3/8" x 3/8" | Knuckle Knuckle | 12.5 GA | 22.05 |
| 192" | 25' or 50' | 3/8" x 3/8" | Knuckle Knuckle | 12.5 GA | 23.52 |
| 204" | 25' or 50' | 3/8" x 3/8" | Knuckle Knuckle | 12.5 GA | 24.99 |
| 216" | 25' or 50' | 3/8" x 3/8" | Knuckle Knuckle | 12.5 GA | 26.46 |
| 228" | 25' or 50' | 3/8" x 3/8" | Knuckle Knuckle | 12.5 GA | 27.93 |
| 240" | 25' or 50' | 3/8" x 3/8" | Knuckle Knuckle | 12.5 GA | 29.4 |
| | | | | | |
| --- | --- | --- | --- | --- | --- |
| Fabric Height | Roll Size | Mesh Size | Selvage | Gauge | Weight / Per Foot (LBS) |
| 18" | 25' or 50' | 3/8" x 3/8" | Knuckle Knuckle | 11.5" GA | 2.85 |
| 24" | 25' or 50' | 3/8" x 3/8" | Knuckle Knuckle | 11.5" GA | 3.8 |
| 36" | 25' or 50' | 3/8" x 3/8" | Knuckle Knuckle | 11.5" GA | 5.7 |
| 42" | 25' or 50' | 3/8" x 3/8" | Knuckle Knuckle | 11.5" GA | 6.65 |
| 48" | 25' or 50' | 3/8" x 3/8" | Knuckle Knuckle | 11.5" GA | 7.6 |
| 60" | 25' or 50' | 3/8" x 3/8" | Knuckle Knuckle | 11.5" GA | 9.5 |
| 72" | 25' or 50' | 3/8" x 3/8" | Knuckle Knuckle | 11.5" GA | 11.4 |
| 84" | 25' or 50' | 3/8" x 3/8" | Knuckle Knuckle | 11.5" GA | 13.3 |
| 96" | 25' or 50' | 3/8" x 3/8" | Knuckle Knuckle | 11.5" GA | 15.2 |
| 108" | 25' or 50' | 3/8" x 3/8" | Knuckle Knuckle | 11.5" GA | 17.1 |
| 120" | 25' or 50' | 3/8" x 3/8" | Knuckle Knuckle | 11.5" GA | 19 |
| 132" | 25' or 50' | 3/8" x 3/8" | Knuckle Knuckle | 11.5" GA | 20.9 |
| 144" | 25' or 50' | 3/8" x 3/8" | Knuckle Knuckle | 11.5" GA | 22.8 |
| 156" | 25' or 50' | 3/8" x 3/8" | Knuckle Knuckle | 11.5" GA | 24.7 |
| 168" | 25' or 50' | 3/8" x 3/8" | Knuckle Knuckle | 11.5" GA | 26.6 |
| 180" | 25' or 50' | 3/8" x 3/8" | Knuckle Knuckle | 11.5" GA | 28.5 |
| 192" | 25' or 50' | 3/8" x 3/8" | Knuckle Knuckle | 11.5" GA | 30.4 |
| 204" | 25' or 50' | 3/8" x 3/8" | Knuckle Knuckle | 11.5" GA | 32.3 |
| 216" | 25' or 50' | 3/8" x 3/8" | Knuckle Knuckle | 11.5" GA | 34.2 |
| 228" | 25' or 50' | 3/8" x 3/8" | Knuckle Knuckle | 11.5" GA | 36.1 |
| 240" | 25' or 50' | 3/8" x 3/8" | Knuckle Knuckle | 11.5" GA | 38 |
| | | | | | |
| --- | --- | --- | --- | --- | --- |
| Fabric Height | Roll Size | Mesh Size | Selvage | Gauge | Weight / Per Foot (LBS) |
| 18" | 25' or 50' | 3/8" x 3/8" | Knuckle Knuckle | 11 GA | 3.525 |
| 24" | 25' or 50' | 3/8" x 3/8" | Knuckle Knuckle | 11 GA | 4.7 |
| 36" | 25' or 50' | 3/8" x 3/8" | Knuckle Knuckle | 11 GA | 7.05 |
| 42" | 25' or 50' | 3/8" x 3/8" | Knuckle Knuckle | 11 GA | 8.225 |
| 48" | 25' or 50' | 3/8" x 3/8" | Knuckle Knuckle | 11 GA | 9.4 |
| 60" | 25' or 50' | 3/8" x 3/8" | Knuckle Knuckle | 11 GA | 11.75 |
| 72" | 25' or 50' | 3/8" x 3/8" | Knuckle Knuckle | 11 GA | 14.1 |
| 84" | 25' or 50' | 3/8" x 3/8" | Knuckle Knuckle | 11 GA | 16.45 |
| 96" | 25' or 50' | 3/8" x 3/8" | Knuckle Knuckle | 11 GA | 18.8 |
| 108" | 25' or 50' | 3/8" x 3/8" | Knuckle Knuckle | 11 GA | 21.15 |
| 120" | 25' or 50' | 3/8" x 3/8" | Knuckle Knuckle | 11 GA | 23.5 |
| 132" | 25' or 50' | 3/8" x 3/8" | Knuckle Knuckle | 11 GA | 25.85 |
| 144" | 25' or 50' | 3/8" x 3/8" | Knuckle Knuckle | 11 GA | 28.2 |
| 156" | 25' or 50' | 3/8" x 3/8" | Knuckle Knuckle | 11 GA | 30.55 |
| 168" | 25' or 50' | 3/8" x 3/8" | Knuckle Knuckle | 11 GA | 32.9 |
| 180" | 25' or 50' | 3/8" x 3/8" | Knuckle Knuckle | 11 GA | 35.25 |
| 192" | 25' or 50' | 3/8" x 3/8" | Knuckle Knuckle | 11 GA | 37.6 |
| 204" | 25' or 50' | 3/8" x 3/8" | Knuckle Knuckle | 11 GA | 39.95 |
| 216" | 25' or 50' | 3/8" x 3/8" | Knuckle Knuckle | 11 GA | 42.3 |
| 228" | 25' or 50' | 3/8" x 3/8" | Knuckle Knuckle | 11 GA | 44.65 |
| 240" | 25' or 50' | 3/8" x 3/8" | Knuckle Knuckle | 11 GA | 47 |
| | | | | | |
| --- | --- | --- | --- | --- | --- |
| Fabric Height | Roll Size | Mesh Size | Selvage | Gauge | Weight / Per Foot (LBS) |
| 18" | 25' or 50' | 3/8" x 3/8" | Knuckle Knuckle | 10.5 GA | 4.2675 |
| 24" | 25' or 50' | 3/8" x 3/8" | Knuckle Knuckle | 10.5 GA | 5.69 |
| 36" | 25' or 50' | 3/8" x 3/8" | Knuckle Knuckle | 10.5 GA | 8.535 |
| 42" | 25' or 50' | 3/8" x 3/8" | Knuckle Knuckle | 10.5 GA | 9.9575 |
| 48" | 25' or 50' | 3/8" x 3/8" | Knuckle Knuckle | 10.5 GA | 11.38 |
| 60" | 25' or 50' | 3/8" x 3/8" | Knuckle Knuckle | 10.5 GA | 14.225 |
| 72" | 25' or 50' | 3/8" x 3/8" | Knuckle Knuckle | 10.5 GA | 17.07 |
| 84" | 25' or 50' | 3/8" x 3/8" | Knuckle Knuckle | 10.5 GA | 19.915 |
| 96" | 25' or 50' | 3/8" x 3/8" | Knuckle Knuckle | 10.5 GA | 22.76 |
| 108" | 25' or 50' | 3/8" x 3/8" | Knuckle Knuckle | 10.5 GA | 25.605 |
| 120" | 25' or 50' | 3/8" x 3/8" | Knuckle Knuckle | 10.5 GA | 28.45 |
| 132" | 25' or 50' | 3/8" x 3/8" | Knuckle Knuckle | 10.5 GA | 31.295 |
| 144" | 25' or 50' | 3/8" x 3/8" | Knuckle Knuckle | 10.5 GA | 34.14 |
| 156" | 25' or 50' | 3/8" x 3/8" | Knuckle Knuckle | 10.5 GA | 36.985 |
| 168" | 25' or 50' | 3/8" x 3/8" | Knuckle Knuckle | 10.5 GA | 39.83 |
| 180" | 25' or 50' | 3/8" x 3/8" | Knuckle Knuckle | 10.5 GA | 42.675 |
| 192" | 25' or 50' | 3/8" x 3/8" | Knuckle Knuckle | 10.5 GA | 45.52 |
| 204" | 25' or 50' | 3/8" x 3/8" | Knuckle Knuckle | 10.5 GA | 48.365 |
| 216" | 25' or 50' | 3/8" x 3/8" | Knuckle Knuckle | 10.5 GA | 51.21 |
| 228" | 25' or 50' | 3/8" x 3/8" | Knuckle Knuckle | 10.5 GA | 54.055 |
| 240" | 25' or 50' | 3/8" x 3/8" | Knuckle Knuckle | 10.5 GA | 56.9 |
| | | | | | |
| --- | --- | --- | --- | --- | --- |
| Fabric Height | Roll Size | Mesh Size | Selvage | Gauge | Weight / Per Foot (LBS) |
| 18" | 25' or 50' | 3/8" x 3/8" | Knuckle Knuckle | 10 GA | 4.965 |
| 24" | 25' or 50' | 3/8" x 3/8" | Knuckle Knuckle | 10 GA | 6.62 |
| 36" | 25' or 50' | 3/8" x 3/8" | Knuckle Knuckle | 10 GA | 9.93 |
| 42" | 25' or 50' | 3/8" x 3/8" | Knuckle Knuckle | 10 GA | 11.585 |
| 48" | 25' or 50' | 3/8" x 3/8" | Knuckle Knuckle | 10 GA | 13.24 |
| 60" | 25' or 50' | 3/8" x 3/8" | Knuckle Knuckle | 10 GA | 16.55 |
| 72" | 25' or 50' | 3/8" x 3/8" | Knuckle Knuckle | 10 GA | 19.86 |
| 84" | 25' or 50' | 3/8" x 3/8" | Knuckle Knuckle | 10 GA | 23.17 |
| 96" | 25' or 50' | 3/8" x 3/8" | Knuckle Knuckle | 10 GA | 26.48 |
| 108" | 25' or 50' | 3/8" x 3/8" | Knuckle Knuckle | 10 GA | 29.79 |
| 120" | 25' or 50' | 3/8" x 3/8" | Knuckle Knuckle | 10 GA | 33.1 |
| 132" | 25' or 50' | 3/8" x 3/8" | Knuckle Knuckle | 10 GA | 36.41 |
| 144" | 25' or 50' | 3/8" x 3/8" | Knuckle Knuckle | 10 GA | 39.72 |
| 156" | 25' or 50' | 3/8" x 3/8" | Knuckle Knuckle | 10 GA | 43.03 |
| 168" | 25' or 50' | 3/8" x 3/8" | Knuckle Knuckle | 10 GA | 46.34 |
| 180" | 25' or 50' | 3/8" x 3/8" | Knuckle Knuckle | 10 GA | 49.65 |
| 192" | 25' or 50' | 3/8" x 3/8" | Knuckle Knuckle | 10 GA | 52.96 |
| 204" | 25' or 50' | 3/8" x 3/8" | Knuckle Knuckle | 10 GA | 56.27 |
| 216" | 25' or 50' | 3/8" x 3/8" | Knuckle Knuckle | 10 GA | 59.58 |
| 228" | 25' or 50' | 3/8" x 3/8" | Knuckle Knuckle | 10 GA | 62.89 |
| 240" | 25' or 50' | 3/8" x 3/8" | Knuckle Knuckle | 10 GA | 66.2 |
| | | | | | |
| --- | --- | --- | --- | --- | --- |
| Fabric Height | Roll Size | Mesh Size | Selvage | Gauge | Weight / Per Foot (LBS) |
| 18" | 25' or 50' | 3/8" x 3/8" | Knuckle Knuckle | 9 GA | 6.375 |
| 24" | 25' or 50' | 3/8" x 3/8" | Knuckle Knuckle | 9 GA | 8.5 |
| 36" | 25' or 50' | 3/8" x 3/8" | Knuckle Knuckle | 9 GA | 12.75 |
| 42" | 25' or 50' | 3/8" x 3/8" | Knuckle Knuckle | 9 GA | 14.875 |
| 48" | 25' or 50' | 3/8" x 3/8" | Knuckle Knuckle | 9 GA | 17 |
| 60" | 25' or 50' | 3/8" x 3/8" | Knuckle Knuckle | 9 GA | 21.25 |
| 72" | 25' or 50' | 3/8" x 3/8" | Knuckle Knuckle | 9 GA | 25.5 |
| 84" | 25' or 50' | 3/8" x 3/8" | Knuckle Knuckle | 9 GA | 29.75 |
| 96" | 25' or 50' | 3/8" x 3/8" | Knuckle Knuckle | 9 GA | 34 |
| 108" | 25' or 50' | 3/8" x 3/8" | Knuckle Knuckle | 9 GA | 38.25 |
| 120" | 25' or 50' | 3/8" x 3/8" | Knuckle Knuckle | 9 GA | 42.5 |
| 132" | 25' or 50' | 3/8" x 3/8" | Knuckle Knuckle | 9 GA | 46.75 |
| 144" | 25' or 50' | 3/8" x 3/8" | Knuckle Knuckle | 9 GA | 51 |
| 156" | 25' or 50' | 3/8" x 3/8" | Knuckle Knuckle | 9 GA | 55.25 |
| 168" | 25' or 50' | 3/8" x 3/8" | Knuckle Knuckle | 9 GA | 59.5 |
| 180" | 25' or 50' | 3/8" x 3/8" | Knuckle Knuckle | 9 GA | 63.75 |
| 192" | 25' or 50' | 3/8" x 3/8" | Knuckle Knuckle | 9 GA | 68 |
| 204" | 25' or 50' | 3/8" x 3/8" | Knuckle Knuckle | 9 GA | 72.25 |
| 216" | 25' or 50' | 3/8" x 3/8" | Knuckle Knuckle | 9 GA | 76.5 |
| 228" | 25' or 50' | 3/8" x 3/8" | Knuckle Knuckle | 9 GA | 80.75 |
| 240" | 25' or 50' | 3/8" x 3/8" | Knuckle Knuckle | 9 GA | 85 |