Aluminized 5/8" x 5/8" Mini Mesh Chain Link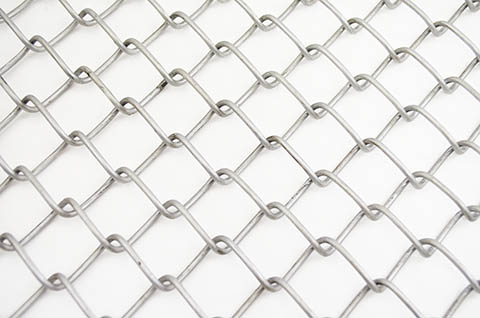 Our 5/8" x 5/8" aluminized chain link fence mini mesh is coated with a layer of aluminum, making it withstand the harshest corrosive elements and pollutants. The small mesh size makes it difficult for footwear to get a grip, keeping intruders and unwanted animals out. Available in a range of heights and gauges, you're sure to find the right mini mesh to fit your needs.
It all starts with the manufacturing. Our fence fabric is produced by colder temperatures drawing steel into wire of the appropriate diameter. The coating process consists of the cleaned wire bathing in molten aluminum metal. This sealed aluminized wire is then woven into high-grade chain link fence fabric.
Aluminum coated mini mesh is recommended for industrial, commercial and institutional applications. It has been used for prison, road, dock, airport, housing, forestry, and military use.
Feet (in Rolls): 25, 50
Gauges: 9, 10, 10.5, 11, 11.5, 12.5, 14
Heights: 18", 24", 36", 42", 48", 60", 72", 84", 96", 108", 120", 132", 144", 156", 168", 180", 192", 204", 216", 228", 240"
Colors: Mini mesh is available in a variety of colors. If you need a color tailored to your needs, we will find it for you!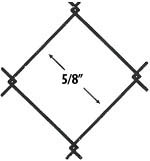 Find Your 5/8" x 5/8" Mini Mesh:
| | | | | | |
| --- | --- | --- | --- | --- | --- |
| Fabric Height | Roll Size | Mesh Size | Selvage | Gauge | Weight / Per Foot (LBS) |
| 18" | 25' or 50' | 5/8" x 5/8" | Knuckle Knuckle | 14 GA | 0.945 |
| 24" | 25' or 50' | 5/8" x 5/8" | Knuckle Knuckle | 14 GA | 1.26 |
| 36" | 25' or 50' | 5/8" x 5/8" | Knuckle Knuckle | 14 GA | 1.89 |
| 42" | 25' or 50' | 5/8" x 5/8" | Knuckle Knuckle | 14 GA | 2.205 |
| 48" | 25' or 50' | 5/8" x 5/8" | Knuckle Knuckle | 14 GA | 2.52 |
| 60" | 25' or 50' | 5/8" x 5/8" | Knuckle Knuckle | 14 GA | 3.15 |
| 72" | 25' or 50' | 5/8" x 5/8" | Knuckle Knuckle | 14 GA | 3.78 |
| 84" | 25' or 50' | 5/8" x 5/8" | Knuckle Knuckle | 14 GA | 4.41 |
| 96" | 25' or 50' | 5/8" x 5/8" | Knuckle Knuckle | 14 GA | 5.04 |
| 108" | 25' or 50' | 5/8" x 5/8" | Knuckle Knuckle | 14 GA | 5.67 |
| 120" | 25' or 50' | 5/8" x 5/8" | Knuckle Knuckle | 14 GA | 6.3 |
| 132" | 25' or 50' | 5/8" x 5/8" | Knuckle Knuckle | 14 GA | 6.93 |
| 144" | 25' or 50' | 5/8" x 5/8" | Knuckle Knuckle | 14 GA | 7.56 |
| 156" | 25' or 50' | 5/8" x 5/8" | Knuckle Knuckle | 14 GA | 8.19 |
| 168" | 25' or 50' | 5/8" x 5/8" | Knuckle Knuckle | 14 GA | 8.82 |
| 180" | 25' or 50' | 5/8" x 5/8" | Knuckle Knuckle | 14 GA | 9.45 |
| 192" | 25' or 50' | 5/8" x 5/8" | Knuckle Knuckle | 14 GA | 10.08 |
| 204" | 25' or 50' | 5/8" x 5/8" | Knuckle Knuckle | 14 GA | 10.71 |
| 216" | 25' or 50' | 5/8" x 5/8" | Knuckle Knuckle | 14 GA | 11.34 |
| 228" | 25' or 50' | 5/8" x 5/8" | Knuckle Knuckle | 14 GA | 11.97 |
| 240" | 25' or 50' | 5/8" x 5/8" | Knuckle Knuckle | 14 GA | 12.6 |
| | | | | | |
| --- | --- | --- | --- | --- | --- |
| Fabric Height | Roll Size | Mesh Size | Selvage | Gauge | Weight / Per Foot (LBS) |
| 18" | 25' or 50' | 5/8" x 5/8" | Knuckle Knuckle | 12.5 GA | 1.53 |
| 24" | 25' or 50' | 5/8" x 5/8" | Knuckle Knuckle | 12.5 GA | 2.04 |
| 36" | 25' or 50' | 5/8" x 5/8" | Knuckle Knuckle | 12.5 GA | 3.06 |
| 42" | 25' or 50' | 5/8" x 5/8" | Knuckle Knuckle | 12.5 GA | 3.57 |
| 48" | 25' or 50' | 5/8" x 5/8" | Knuckle Knuckle | 12.5 GA | 4.08 |
| 60" | 25' or 50' | 5/8" x 5/8" | Knuckle Knuckle | 12.5 GA | 5.1 |
| 72" | 25' or 50' | 5/8" x 5/8" | Knuckle Knuckle | 12.5 GA | 6.12 |
| 84" | 25' or 50' | 5/8" x 5/8" | Knuckle Knuckle | 12.5 GA | 7.14 |
| 96" | 25' or 50' | 5/8" x 5/8" | Knuckle Knuckle | 12.5 GA | 8.16 |
| 108" | 25' or 50' | 5/8" x 5/8" | Knuckle Knuckle | 12.5 GA | 9.18 |
| 120" | 25' or 50' | 5/8" x 5/8" | Knuckle Knuckle | 12.5 GA | 10.2 |
| 132" | 25' or 50' | 5/8" x 5/8" | Knuckle Knuckle | 12.5 GA | 11.22 |
| 144" | 25' or 50' | 5/8" x 5/8" | Knuckle Knuckle | 12.5 GA | 12.24 |
| 156" | 25' or 50' | 5/8" x 5/8" | Knuckle Knuckle | 12.5 GA | 13.26 |
| 168" | 25' or 50' | 5/8" x 5/8" | Knuckle Knuckle | 12.5 GA | 14.28 |
| 180" | 25' or 50' | 5/8" x 5/8" | Knuckle Knuckle | 12.5 GA | 15.3 |
| 192" | 25' or 50' | 5/8" x 5/8" | Knuckle Knuckle | 12.5 GA | 16.32 |
| 204" | 25' or 50' | 5/8" x 5/8" | Knuckle Knuckle | 12.5 GA | 17.34 |
| 216" | 25' or 50' | 5/8" x 5/8" | Knuckle Knuckle | 12.5 GA | 18.36 |
| 228" | 25' or 50' | 5/8" x 5/8" | Knuckle Knuckle | 12.5 GA | 19.38 |
| 240" | 25' or 50' | 5/8" x 5/8" | Knuckle Knuckle | 12.5 GA | 20.4 |
| | | | | | |
| --- | --- | --- | --- | --- | --- |
| Fabric Height | Roll Size | Mesh Size | Selvage | Gauge | Weight / Per Foot (LBS) |
| 18" | 25' or 50' | 5/8" x 5/8" | Knuckle Knuckle | 11.5" GA | 1.875 |
| 24" | 25' or 50' | 5/8" x 5/8" | Knuckle Knuckle | 11.5" GA | 2.5 |
| 36" | 25' or 50' | 5/8" x 5/8" | Knuckle Knuckle | 11.5" GA | 3.75 |
| 42" | 25' or 50' | 5/8" x 5/8" | Knuckle Knuckle | 11.5" GA | 4.375 |
| 48" | 25' or 50' | 5/8" x 5/8" | Knuckle Knuckle | 11.5" GA | 5 |
| 60" | 25' or 50' | 5/8" x 5/8" | Knuckle Knuckle | 11.5" GA | 6.25 |
| 72" | 25' or 50' | 5/8" x 5/8" | Knuckle Knuckle | 11.5" GA | 7.5 |
| 84" | 25' or 50' | 5/8" x 5/8" | Knuckle Knuckle | 11.5" GA | 8.75 |
| 96" | 25' or 50' | 5/8" x 5/8" | Knuckle Knuckle | 11.5" GA | 10 |
| 108" | 25' or 50' | 5/8" x 5/8" | Knuckle Knuckle | 11.5" GA | 11.25 |
| 120" | 25' or 50' | 5/8" x 5/8" | Knuckle Knuckle | 11.5" GA | 12.5 |
| 132" | 25' or 50' | 5/8" x 5/8" | Knuckle Knuckle | 11.5" GA | 13.75 |
| 144" | 25' or 50' | 5/8" x 5/8" | Knuckle Knuckle | 11.5" GA | 15 |
| 156" | 25' or 50' | 5/8" x 5/8" | Knuckle Knuckle | 11.5" GA | 16.25 |
| 168" | 25' or 50' | 5/8" x 5/8" | Knuckle Knuckle | 11.5" GA | 17.5 |
| 180" | 25' or 50' | 5/8" x 5/8" | Knuckle Knuckle | 11.5" GA | 18.75 |
| 192" | 25' or 50' | 5/8" x 5/8" | Knuckle Knuckle | 11.5" GA | 20 |
| 204" | 25' or 50' | 5/8" x 5/8" | Knuckle Knuckle | 11.5" GA | 21.25 |
| 216" | 25' or 50' | 5/8" x 5/8" | Knuckle Knuckle | 11.5" GA | 22.5 |
| 228" | 25' or 50' | 5/8" x 5/8" | Knuckle Knuckle | 11.5" GA | 23.75 |
| 240" | 25' or 50' | 5/8" x 5/8" | Knuckle Knuckle | 11.5" GA | 25 |
| | | | | | |
| --- | --- | --- | --- | --- | --- |
| Fabric Height | Roll Size | Mesh Size | Selvage | Gauge | Weight / Per Foot (LBS) |
| 18" | 25' or 50' | 5/8" x 5/8" | Knuckle Knuckle | 11 GA | 2.325 |
| 24" | 25' or 50' | 5/8" x 5/8" | Knuckle Knuckle | 11 GA | 3.1 |
| 36" | 25' or 50' | 5/8" x 5/8" | Knuckle Knuckle | 11 GA | 4.65 |
| 42" | 25' or 50' | 5/8" x 5/8" | Knuckle Knuckle | 11 GA | 5.425 |
| 48" | 25' or 50' | 5/8" x 5/8" | Knuckle Knuckle | 11 GA | 6.2 |
| 60" | 25' or 50' | 5/8" x 5/8" | Knuckle Knuckle | 11 GA | 7.75 |
| 72" | 25' or 50' | 5/8" x 5/8" | Knuckle Knuckle | 11 GA | 9.3 |
| 84" | 25' or 50' | 5/8" x 5/8" | Knuckle Knuckle | 11 GA | 10.85 |
| 96" | 25' or 50' | 5/8" x 5/8" | Knuckle Knuckle | 11 GA | 12.4 |
| 108" | 25' or 50' | 5/8" x 5/8" | Knuckle Knuckle | 11 GA | 13.95 |
| 120" | 25' or 50' | 5/8" x 5/8" | Knuckle Knuckle | 11 GA | 15.5 |
| 132" | 25' or 50' | 5/8" x 5/8" | Knuckle Knuckle | 11 GA | 17.05 |
| 144" | 25' or 50' | 5/8" x 5/8" | Knuckle Knuckle | 11 GA | 18.6 |
| 156" | 25' or 50' | 5/8" x 5/8" | Knuckle Knuckle | 11 GA | 20.15 |
| 168" | 25' or 50' | 5/8" x 5/8" | Knuckle Knuckle | 11 GA | 21.7 |
| 180" | 25' or 50' | 5/8" x 5/8" | Knuckle Knuckle | 11 GA | 23.25 |
| 192" | 25' or 50' | 5/8" x 5/8" | Knuckle Knuckle | 11 GA | 24.8 |
| 204" | 25' or 50' | 5/8" x 5/8" | Knuckle Knuckle | 11 GA | 26.35 |
| 216" | 25' or 50' | 5/8" x 5/8" | Knuckle Knuckle | 11 GA | 27.9 |
| 228" | 25' or 50' | 5/8" x 5/8" | Knuckle Knuckle | 11 GA | 29.45 |
| 240" | 25' or 50' | 5/8" x 5/8" | Knuckle Knuckle | 11 GA | 31 |
| | | | | | |
| --- | --- | --- | --- | --- | --- |
| Fabric Height | Roll Size | Mesh Size | Selvage | Gauge | Weight / Per Foot (LBS) |
| 18" | 25' or 50' | 5/8" x 5/8" | Knuckle Knuckle | 10.5 GA | 2.7 |
| 24" | 25' or 50' | 5/8" x 5/8" | Knuckle Knuckle | 10.5 GA | 3.6 |
| 36" | 25' or 50' | 5/8" x 5/8" | Knuckle Knuckle | 10.5 GA | 5.4 |
| 42" | 25' or 50' | 5/8" x 5/8" | Knuckle Knuckle | 10.5 GA | 6.3 |
| 48" | 25' or 50' | 5/8" x 5/8" | Knuckle Knuckle | 10.5 GA | 7.2 |
| 60" | 25' or 50' | 5/8" x 5/8" | Knuckle Knuckle | 10.5 GA | 9 |
| 72" | 25' or 50' | 5/8" x 5/8" | Knuckle Knuckle | 10.5 GA | 10.8 |
| 84" | 25' or 50' | 5/8" x 5/8" | Knuckle Knuckle | 10.5 GA | 12.6 |
| 96" | 25' or 50' | 5/8" x 5/8" | Knuckle Knuckle | 10.5 GA | 14.4 |
| 108" | 25' or 50' | 5/8" x 5/8" | Knuckle Knuckle | 10.5 GA | 16.2 |
| 120" | 25' or 50' | 5/8" x 5/8" | Knuckle Knuckle | 10.5 GA | 18 |
| 132" | 25' or 50' | 5/8" x 5/8" | Knuckle Knuckle | 10.5 GA | 19.8 |
| 144" | 25' or 50' | 5/8" x 5/8" | Knuckle Knuckle | 10.5 GA | 21.6 |
| 156" | 25' or 50' | 5/8" x 5/8" | Knuckle Knuckle | 10.5 GA | 23.4 |
| 168" | 25' or 50' | 5/8" x 5/8" | Knuckle Knuckle | 10.5 GA | 25.2 |
| 180" | 25' or 50' | 5/8" x 5/8" | Knuckle Knuckle | 10.5 GA | 27 |
| 192" | 25' or 50' | 5/8" x 5/8" | Knuckle Knuckle | 10.5 GA | 28.8 |
| 204" | 25' or 50' | 5/8" x 5/8" | Knuckle Knuckle | 10.5 GA | 30.6 |
| 216" | 25' or 50' | 5/8" x 5/8" | Knuckle Knuckle | 10.5 GA | 32.4 |
| 228" | 25' or 50' | 5/8" x 5/8" | Knuckle Knuckle | 10.5 GA | 34.2 |
| 240" | 25' or 50' | 5/8" x 5/8" | Knuckle Knuckle | 10.5 GA | 36 |
| | | | | | |
| --- | --- | --- | --- | --- | --- |
| Fabric Height | Roll Size | Mesh Size | Selvage | Gauge | Weight / Per Foot (LBS) |
| 18" | 25' or 50' | 5/8" x 5/8" | Knuckle Knuckle | 10 GA | 3 |
| 24" | 25' or 50' | 5/8" x 5/8" | Knuckle Knuckle | 10 GA | 4 |
| 36" | 25' or 50' | 5/8" x 5/8" | Knuckle Knuckle | 10 GA | 6 |
| 42" | 25' or 50' | 5/8" x 5/8" | Knuckle Knuckle | 10 GA | 7 |
| 48" | 25' or 50' | 5/8" x 5/8" | Knuckle Knuckle | 10 GA | 8 |
| 60" | 25' or 50' | 5/8" x 5/8" | Knuckle Knuckle | 10 GA | 10 |
| 72" | 25' or 50' | 5/8" x 5/8" | Knuckle Knuckle | 10 GA | 12 |
| 84" | 25' or 50' | 5/8" x 5/8" | Knuckle Knuckle | 10 GA | 14 |
| 96" | 25' or 50' | 5/8" x 5/8" | Knuckle Knuckle | 10 GA | 16 |
| 108" | 25' or 50' | 5/8" x 5/8" | Knuckle Knuckle | 10 GA | 18 |
| 120" | 25' or 50' | 5/8" x 5/8" | Knuckle Knuckle | 10 GA | 20 |
| 132" | 25' or 50' | 5/8" x 5/8" | Knuckle Knuckle | 10 GA | 22 |
| 144" | 25' or 50' | 5/8" x 5/8" | Knuckle Knuckle | 10 GA | 24 |
| 156" | 25' or 50' | 5/8" x 5/8" | Knuckle Knuckle | 10 GA | 26 |
| 168" | 25' or 50' | 5/8" x 5/8" | Knuckle Knuckle | 10 GA | 28 |
| 180" | 25' or 50' | 5/8" x 5/8" | Knuckle Knuckle | 10 GA | 30 |
| 192" | 25' or 50' | 5/8" x 5/8" | Knuckle Knuckle | 10 GA | 32 |
| 204" | 25' or 50' | 5/8" x 5/8" | Knuckle Knuckle | 10 GA | 34 |
| 216" | 25' or 50' | 5/8" x 5/8" | Knuckle Knuckle | 10 GA | 36 |
| 228" | 25' or 50' | 5/8" x 5/8" | Knuckle Knuckle | 10 GA | 38 |
| 240" | 25' or 50' | 5/8" x 5/8" | Knuckle Knuckle | 10 GA | 40 |
| | | | | | |
| --- | --- | --- | --- | --- | --- |
| Fabric Height | Roll Size | Mesh Size | Selvage | Gauge | Weight / Per Foot (LBS) |
| 18" | 25' or 50' | 5/8" x 5/8" | Knuckle Knuckle | 9 GA | 3.492 |
| 24" | 25' or 50' | 5/8" x 5/8" | Knuckle Knuckle | 9 GA | 4.656 |
| 36" | 25' or 50' | 5/8" x 5/8" | Knuckle Knuckle | 9 GA | 6.984 |
| 42" | 25' or 50' | 5/8" x 5/8" | Knuckle Knuckle | 9 GA | 8.148 |
| 48" | 25' or 50' | 5/8" x 5/8" | Knuckle Knuckle | 9 GA | 9.312 |
| 60" | 25' or 50' | 5/8" x 5/8" | Knuckle Knuckle | 9 GA | 11.64 |
| 72" | 25' or 50' | 5/8" x 5/8" | Knuckle Knuckle | 9 GA | 13.968 |
| 84" | 25' or 50' | 5/8" x 5/8" | Knuckle Knuckle | 9 GA | 16.296 |
| 96" | 25' or 50' | 5/8" x 5/8" | Knuckle Knuckle | 9 GA | 18.624 |
| 108" | 25' or 50' | 5/8" x 5/8" | Knuckle Knuckle | 9 GA | 20.952 |
| 120" | 25' or 50' | 5/8" x 5/8" | Knuckle Knuckle | 9 GA | 23.28 |
| 132" | 25' or 50' | 5/8" x 5/8" | Knuckle Knuckle | 9 GA | 25.608 |
| 144" | 25' or 50' | 5/8" x 5/8" | Knuckle Knuckle | 9 GA | 27.936 |
| 156" | 25' or 50' | 5/8" x 5/8" | Knuckle Knuckle | 9 GA | 30.264 |
| 168" | 25' or 50' | 5/8" x 5/8" | Knuckle Knuckle | 9 GA | 32.592 |
| 180" | 25' or 50' | 5/8" x 5/8" | Knuckle Knuckle | 9 GA | 34.92 |
| 192" | 25' or 50' | 5/8" x 5/8" | Knuckle Knuckle | 9 GA | 37.248 |
| 204" | 25' or 50' | 5/8" x 5/8" | Knuckle Knuckle | 9 GA | 39.576 |
| 216" | 25' or 50' | 5/8" x 5/8" | Knuckle Knuckle | 9 GA | 41.904 |
| 228" | 25' or 50' | 5/8" x 5/8" | Knuckle Knuckle | 9 GA | 44.232 |
| 240" | 25' or 50' | 5/8" x 5/8" | Knuckle Knuckle | 9 GA | 46.56 |