Extruded Mini Mesh Specifications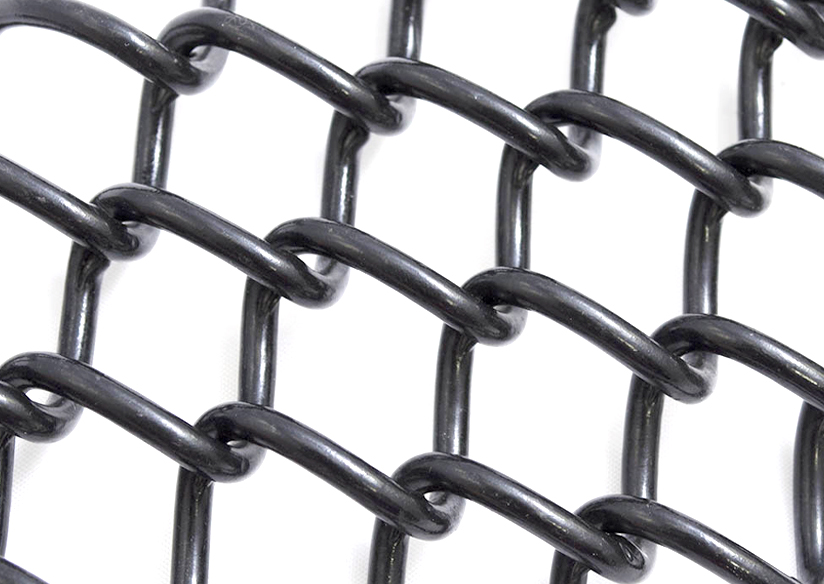 ASTM F668, Federal Specification RR-F-191/1E Type IV, AASHTO M-181 Type IV Class A
Product Name: Extruded Poly (Vinyl Chloride) PVC Coated Steel Chain Link Mini Mesh Fence Fabric

Basic Use: Extruded PVC coated mini mesh fabric is a PVC coated, high strength galvanized steel chain link fence fabric for industrial, commercial and institutional applications. Extruded Fabric is contained in local, state and federal
government specifications for use in prison, road, dock, airport, housing, forestry, and military use.

Composition and Material: The galvanized steel core wire for producing extruded PVC coated steel chain link fence fabric is created by cold-drawing good commercial grade steel rod into wire of the appropriate diameter. The steel rod from which the wire is drawn is produced by the open hearth, electric furnace or basic oxygen process. The galvanized coating is produced by passing the cleaned wire through a bath of molten zinc which conforms to ASTM B6. The extruded PVC coating is produced by extruding PVC at a coating thickness of 0.015" (.38mm) - 0.025" (0.64 mm) over a galvanized core wire.

Standards:
ASTM B6 – Slab Zinc
ASTM F567 – Installation of Chain Link Fence
ASTM F668 – Poly (Vinyl Chloride) (PVC) and Other Organic Polymer-Coated Steel Chain Link Fence Fabric, Class 1
Federal Specification RR-F-191K/1E – Fencing, Wire, and Post Metal (Chain Link Fence Fabric), Type IV
AASHTO M-181 – Chain Link Fence, Type IV, Class A

Technical Data
General: The manufacturer, if requested, will supply samples and certification that all materials furnished comply with the appropriate specifications.

Chain Link Fence Fabric: The base metal of the chain link fence fabric is composed of commercial quality, medium carbon galvanized (zinc coated) steel wire. The vinyl coating is continuously applied over the galvanized wire by the extrusion process. The extrusion process ensures a dense and impervious coating free of voids, as well as a smooth and lustrous surface appearance. Vinyl coating thickness, galvanized coating weight, and wire tensile strength conform to ASTM F668, Class 1, Federal Specification RR-F-191/1E Type IV, and AASHTO M-181 Type IV, Class A. The wire is PVC coated before weaving and is free and flexible at all joints. Unless otherwise specified, fabric woven in 2" (50 mm) mesh, under 72" (1,830 mm) in height, is knuckled at both selvages; fabric 72" (1,830 mm) high and over is knuckled at one end and twisted at the other. All fabrics woven into meshes under 2" (50 mm) have both selvages knuckled.

Wire Coating: Only plasticized poly (vinyl chloride) (PVC) with a low temperature (-20 C ; -4 C) plasticizer and no
extenders or extraneous matter other than the necessary stabilizers and pigments, is used. The PVC coating resists attacks from prolonged exposure to dilute solutions; most common mineral acids, seawater, and dilute solutions of most salts and alkali.

Installation: Install fence in accordance with ASTM Practice 567. Handle all PVC coated material with care. If PVC
coating is damaged during installation, contractor must replace or repair the material at own expense.

Maintenance: Periodic inspection is recommended but no routine maintenance is required.
PVC Coated Steel Wire Characteristics Table
Coating thickness, coating weight, and wire tensile strength conform to ASTM F668 specifications.
Zinc Coated
Core Wire Size

PVC
Coated
Wire Size

PVC Coated
Wire Allowable
Variance

Minimum Core Wire Zinc
Coating Weight

PVC Coating Thickness

Minimum Breaking/ Tensile Strengh

Gage

Inch

mm

Gage

Inch

mm

Oz/ft²

g/m²

Inch

mm

lbf

Newtons

MPa

9

0.148

3.76

6

±0.005

±0.13

0.30

92

0.015
to
0.025

0.38
to
0.64

1290

5710

515

11

0.120

3.05

8

±0.005

±0.13

0.30

92

850

3780

515

14

0.080

2.03

11

±0.005

±0.13

0.25

76

380

1690

515
PVC Coated Chain Link Fabric Sizes With Selvages Table

Mesh Size

Finished Wire Gage

Fabric Wire Height

Selvage
K - Knuckled
T - Twisted/Barbed


Roll Size

2"

6, 8

18" - 240"

KK, KT, TT

25', 50'

1 3/4"

6, 8

18" - 240"

KK

25', 50'

1"

8

18" - 144"

KK

25'

5/8"

11

18" - 72"

KK

25'

1/2"

11

18" - 72"

KK

25'

3/8"

11

18" - 72"

KK

25'
Typical Vinyl Properties Table
| | | |
| --- | --- | --- |
| Test | Test Method | Value |
| Specific Gravity | ASTM D 792 | 1.130 ± 0.03 |
| Hardness, Durometer | ASTM D 2240 | A90 ±5 |
| Tensile Strength | ASTM D 412 | 2600 ± 5% |
| Ultimate Elongation | ASTM D 412 | 275% ± 5% |
| Mandrel Bend Test, 10X mandrel | ASTM D 668 | -20° F (-29° C) |
| Dielectric Strength, volt/mil | ASTM D 149 | 750 |
| Compression Cut-Through, lbs | BELL LABS | 1500 |
| Accelerated Aging Test | ASTM D 1499 | 1500 hrs at 145° F |